Halibut Poached in Acqua Pazza
by Joseph Erdos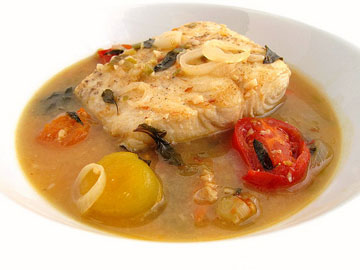 In soups or stews, when grilled or braised, or when poached or seared, halibut is a wonderful fish no matter the cooking method. Its white sturdy flesh holds together very well in different preparations. It has a meaty texture much like chicken and a subtle fish flavor.

A preparation, like this Italian poached recipe, is the perfect way to show off halibut in all its glory. Poaching the fish in a flavorful broth makes it a very appealing dish for a chilly fall day. There's a story behind the name of this recipe: acqua pazza in Italian means crazy water. Neapolitan fisherman would poach their catch of the day in a spicy, briny broth flavored with wine and herbs. More often than not, they would use seawater as the stock base. A few years ago I tasted a wonderful rendition of monkfish in acqua pazza at the now-closed Lunetta. I've had the inclination to make it at home ever since.

My recipe takes traditional acqua pazza and gives it an Asian twist. Inspired by the cuisine of Chef Jean-Georges Vongerichten, who is well known for fusing classical French technique with Asian flavors, I create a recipe that builds flavor upon flavor.
I begin with ginger and garlic as a base. Instead of traditional parsley, I use Thai basil, which lends an anise flavor. I finish the broth with sweet and savory: honey and miso paste. End-of-the-season cherry tomatoes in different colors also lend their sweetness. The finished dish is hearty enough for a comforting meal with family, but fancy enough for any dinner party. The flavors touch upon all the taste profiles of sweet, salty, sour, and savory.

Halibut Poached in Acqua Pazza

2 tablespoons olive oil
3 garlic cloves, minced
1 tablespoon minced ginger (about 1/2-inch piece)
1 teaspoon crushed red pepper flakes
2 cups dry white wine
2 cups fish stock, clam juice, or water
2 large scallions, thinly sliced on the bias
1 pint cherry tomatoes in various colors
1/2 cup Thai basil leaves
1-1/2 pounds halibut, cut into 4 pieces
fine sea salt
freshly ground black pepper
2 tablespoons canola oil
3 tablespoons miso paste
1 tablespoon honey

Warm oil in a large deep skillet set over medium-high heat. Add garlic and ginger; saute until fragrant, about 1 to 2 minutes. Add crushed red pepper and toast 1 minute. Add wine and stock. Bring to a boil. Add scallions, tomatoes, and basil. Cover and reduce to a simmer.

Meanwhile, heat a large nonstick pan over medium-high to high heat. Liberally season fish with salt and pepper. Set fish skin-side down in pan and sear 3 minutes. Using a spatula, carefully flip fish over to flesh side and sear 3 minutes. Carefully transfer fish to simmering broth flesh-side down. Cover and continue to simmer until fish is opaque throughout, about 5 to 8 minutes. Carefully remove fish, one by one, to individual bowls. Place skin-side down or remove skin if desired.

Add miso paste and honey to a small bowl and ladle over with a portion of broth. Whisk until the miso and honey are dissolved into liquid. Pour the mixture back into skillet and stir to combine. Check for seasoning. Divide broth and vegetables among the four bowls of fish. Serve immediately. Yield: 4 servings.
Joseph Erdos is a New York–based writer and editor, butabove all a gastronomer and oenophile. He shares his passion for foodon his blog, Gastronomer's Guide , which features unique recipes and restaurant reviews among many other musings on the all-encompassing topic of food.
Southern California


by

Eduardo Santiago





I've always had a strange relationship with The Wedge. I see it on the menu, I want it, I plan to order it and then I change my mind. I'm always afraid that I'm going to get stuck with a chunk of...

Read more...

New York


by

David Latt





Going to New York is always a treat. Like everyone else, I love walking around the city. A leisurely stroll through Central Park when the flowering trees are in bloom is one of life's great...

Read more...

Texas


by

Haley Schultheis





One of my favorite places to satiate my sweet tooth is La Duni in Dallas. La Duni Latin American café and bakery has several locations. Not only is the atmosphere feminine and romantic, the...

Read more...

Los Angeles


by

Lisa Dinsmore






It's all my friend Jo's fault. She brought me to LudoBites 3.0 at Royal T in Culver City just over 2 years ago. I had never heard of Chef Ludo before and really wasn't that into food, but I was...

Read more...