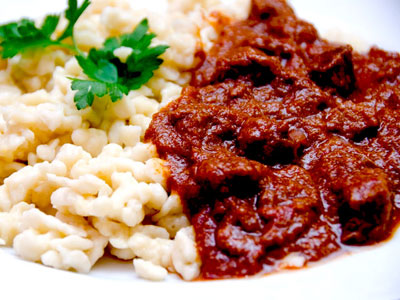 Now that cooler temperatures are upon us, even here in California, it's time for some hearty soup and stews. Hungarian Beef Goulash is a common Eastern European stew created using three basic ingredients: equal parts beef and onions, and a healthy dose of paprika.
It's often served with spaetzle, noodles, rice or potatoes and is guaranteed to keep you warm on the chilliest of days. Since paprika is a key ingredient, it's important to use the best you can find.
The Spice House is a great family owned business that offes the highest quality, hand-selected and hand-prepared spices and herbs. The stores are located in the Midwest (I've been to the store in Chicago, it's great!), but online ordering from their website is a breeze – and it's worth the trouble for their signature Hungarian Sweet Paprika. Check out all of their spices here.
Best Beef Goulash with Hungarian Sweet Paprika
3 pound beef chuck roast, cut into 1 ½"inch cubes
1 teaspoon kosher salt
1/2 teaspoon freshly ground black pepper
3 tablespoons vegetable oil (or bacon drippings)
3 large onions, about 4 cups onion, finely chopped
1 teaspoon sugar
1/4 teaspoon salt
6 garlic cloves, minced
4 tablespoons Spice House Hungarian Sweet Paprika
3 tablespoons flour
3 cups chicken stock (preferably homemade)
3 tablespoons tomato paste
12 ounces jarred roasted red peppers, drained rinsed, and coarsely chopped (about 1 cup)
2 tablespoons balsamic vinegar (or red wine vinegar)
1 bay leaf
2 tablespoons minced fresh marjoram leaves (or 1 teaspoon dried)
1 teaspoon minced fresh thyme leaves
1 tablespoon caraway seeds, toasted in a dry skillet over medium heat until fragrant 1-2 minutes, and then coarsely ground
1/4 teaspoon cayenne pepper
1/2 cup sour cream
1/4 cup fresh chopped parsley
1. Preheat oven to 300°F and set rack to lower-middle position.
2. Dry beef chunks with paper towels and then season with kosher salt and pepper. Heat 1 tablespoon of oil is large Dutch oven over medium high heat until shimmering, about 2 minutes. Add half the beef cubes, arranging carefully so that meat is not overlapping. Cook, without moving, until well browned on one side, 2-3 minutes. Turn each piece and continue to cook until well browned all over, about 5 minutes. Remove meat and set aside in a large bowl. Repeat process with another tablespoon of oil (or bacon drippings) and remaining meat. Transfer meat to the bowl and set aside.
3. Reduce heat to medium, and adding remaining tablespoon of oil to the Dutch oven. Add the onions, sugar, and 1/4 teaspoon of salt. Cook, stirring frequently and scraping the bottom of the pot to loosen any browned bits, until the onions are golden brown, 8-10 minutes. Stir in garlic and cook until fragrant, about 30 seconds. Add paprika and flour and stir to coat the onions, about 1-2 minutes.
4. Stir in 1 1/2 cups of stock, scraping bottom of the pan to loosen any brown bits, stirring until the liquid has thickened. Slowly add remaining stock, stirring constantly. Stir in tomato paste, chopped red peppers, vinegar, bay leaf, marjoram, thyme, caraway seeds cayenne pepper, and 3/4 teaspoon salt. Add the reserved browned beef and any accumulated juices, and stir to combine. Increase heat to medium-high, bring to a simmer, cover pot and place in oven for 2 hours, until meat is tender when tested with a fork, stirring once after 75 minutes.
5. Remove from oven and skim off any fat from top of stew. Place the sour cream in a bowl and add 1/2 cup of the hot liquid from the stew and mix to combine. Stir the mixture back into the stew, and then add parsley, season with salt and pepper to taste, and stir to combine. Serve immediately.