Washington, DC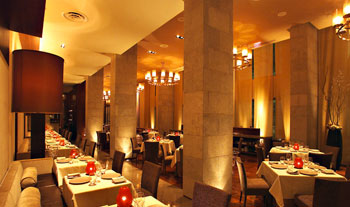 It was the best of climes…it was the worst of climes. Well, perhaps not either, but pretty damn cold.
A winter meeting in Washington: five days, four nights, and four dinners to review…
With the temperature in the teens and snow on the way, lured by a rave review in "The Week: The year's best restaurant in D.C.," we ventured out of our cozy hotel and taxied across town for the build your own, $90.00 per person, 4-course dinner at CityZen, Eric Ziebold's (late of the French Laundry) 8 year old New American-French-Asian-Fusion restaurant in Washington's Mandarin Hotel: trout tournedos in pastry, venison medallions, pastrami cured sweetbreads, something with beets, nothing on the menu mentioned in the review, and the high memorable point of the evening: the hostess waiting with our coats as we neared the exit. "No need for a coat check…we know who you are." Next time, settle into the hotel lobby, beautiful décor, lively lovely guests, and order off the lobby bar's supper menu after you've downed a few dozen of the assorted olives and the salty crunchy Asian accompaniments provided with your cocktail. You won't be sorry, and you'll have ample room on your expense account for your next big meal.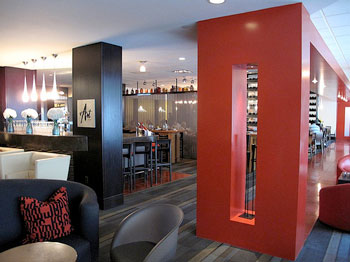 Art & Soul, located just inside the Liaison Capitol Hill Hotel in Washington, DC, is Chef Art Smith's first restaurant in DC. Chef Smith, better known as Oprah Winfrey's former personal chef, opened this new restaurant as the first Southern restaurant in the nation's capitol, serving the gamut of traditional but modernized comfort food. The space—indoors and out—really lends itself to gatherings and parties. Bold touches of red throughout as well as basic black accentuate the sophisticated atmosphere. I think it helps show off the traditional Southern food in an even more modern light.

While I was in DC with Destination DC, I had the pleasure of staying at the Liaison Hotel and dining at Art & Soul on my first night. I was joined by two other bloggers, Cathy from Gastronomy Blog and Olga from Mango Tomato, as well as writers from other parts of the country. The best and most surprising part was that Art Smith himself was there to have dinner with us. It was truly an experience to be savored and remembered.

Our evening began with Southernized hors d'ouevres and cocktails. First luscious and creamy fried mac 'n cheese balls. Then small hoecakes with smoked salmon and caviar. Fried chicken with gravy that were served between bite-size biscuits came next. Finally seared tuna atop a fried green tomato with green tomato relish. I never imagined Southern food could work as such elegant finger food.