Utah
Chef Mark Shoup knows about cold weather. The executive chef at Robert Redford's Sundance Resort in Utah serves up a lot of hot comfort food when hungry skiers sit down in the main dining room, the Foundry Grill. High on his list of favorites is hot pear cobbler topped with ice cream. If you're counting calories, use whipped cream or yogurt instead. Perfect by itself for a cold-weather afternoon snack or to end a meal, the cobbler can be prepared a day ahead, kept in the refrigerator, and popped in the oven just thirty minutes before serving.
4 ounces almond paste
2 sticks sweet (unsalted) butter
1 cup light brown sugar
1 teaspoon lemon zest
1/2 teaspoon salt
2½ cups flour
1 1/3 cups oats
1 1/3 cups raw almonds, sliced
4 cups Bartlett pears, washed, cored, peeled, cut into cubes
¼ cup white sugar
2 tablespoons cornstarch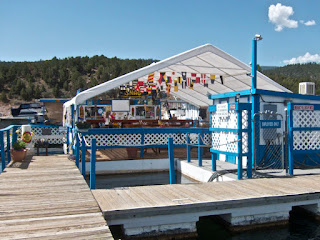 Visiting Dinosaur National Park from Salt Lake City can certainly be done in a long day trip, but if you have more time, base your stay in Vernal with half a dozen comfortable, affordable motels, or at camp sites and cabins in the collection of parks stretching from Vernal to Flaming Gorge, forty-five minutes away. The area around Vernal is home to a mix of federal and Utah state parkland recreational areas with opportunities for horseback, ATV and dirt bike riding, hiking, fishing, river rafting and boating.
Or you can go sight-seeing to enjoy the magnificent landscape by driving into the Flaming Gorge Recreation Area. Stand on the top of the mesa above Red Canyon and look down into the gorge created by the Green River as it cuts through the mountains, widening into a reservoir behind the Flaming Gorge Dam, a mini-sized dam that created a maxi-sized body of water stretching across three states (Utah, Wyoming and Colorado).
If you want to just hang out, doing nothing more strenuous than having a nice lunch, drinking a beer or two and watching the power boats scoot around the lake behind Flaming Gorge Dam, stop at the Snag Bar & Grill at the Cedar Springs Marina and kick back.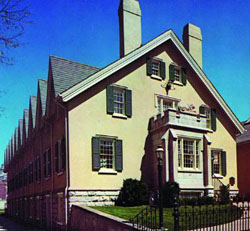 Food is the epicenter of Mormon culture, which makes it seem like people rarely show up at church events – well, any event – without the expectation of noshing. No food is virtually a mortal sin punishable by social chastisement and tantamount to cultural anarchy. And while much of the layperson Mormon culinary lexicon consists of potentially disastrous gastronomic experiments and everything- but- the- kitchen- sink casseroles, the Lion House in Salt Lake City's Temple Square stands as the pillar of Mormon cuisine, our Le Cordon Bleu, if you will.
Formerly the residence of Brigham Young, the Lion House is part restaurant, part museum and the full-blown headquarters of the LDS (Latter-Day Saint - Mormonese for Mormon) epicurean experience. Being born and bred in the heart of West L.A. put me at somewhat of a (thankful) disadvantage for truly appreciating the subtle nuances of the cuisine of my pioneer forefathers – lime Jello with shredded cheddar cheese or shredded carrots and crushed pineapple mixed in was never quite my thing. But after my first visit to the Lion House with my grandma some 15 years ago, my heart (and stomach) were changed forever.