Michigan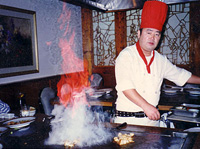 The second of my eating out experiences this week took me to Ukai, a Japanese restaurant in Okemos, Michigan. Chosen by my 11-year-old nephew as the site of his birthday dinner, Ukai occupies a space which was, in my youth, Pizza Villa. Gone are the murals of gondolas and the menu drowning in red sauce; it has all been replaced by long hibachi tables, low lights, and a sushi bar. Huge props to my nephew for choosing a Japanese steakhouse with sushi for Auntie Ann instead of something more tortuously predictable with a group of mutinous waitstaff singing and clapping the "happy, happy birthday" song at warp speed.
Not since eating at a Benihana in the 80s have I sat at a table and watched a chef slice, dice and do tricks in the course of preparing dinner. It's kitschy, to be sure, but unless one is jaded to the point of unconsciousness, it's also amusing. It's even more amusing in the company of children, who are exponentially more dazzled by the throwing of knives, and the breaking of eggs caught on a Ginsu blade as they descend from the sky whence they were juggled. Three generations of my family sat around the long table/cook top watching this show, laughing and gasping at the tricks, and while it was neither haute nor sophisticated, it was kind of a transcendently wonderful evening for all of us. (My spellchecker informs me that "transcendently" is not a word, but you'll have to live with it). Both the table-side chef and the kimono-ed waitress were gracious, solicitous, and impressively able to remember the particulars of ten different orders.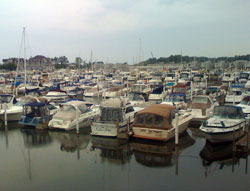 On our recent trip to Chicago, my husband and I found ourselves fairly secluded from the outside world as we cared for my aging father-in-law while my mother-in-law got a much needed vacation. With only one day to ourselves – thanks to the brief appearance of his brothers – we decided to meet up with some friends on the shore of Lake Michigan, in Michigan. It would have been easier to hook-up on the Chi-town side of the water (they only live 20 minutes away from my in-laws), but since they were off boating there, we like to road-trip and I had never been to Michigan, we tentatively agreed to meet in a small town on the lake called New Buffalo.

Spontaneous is a word rarely attributed to me, especially when I travel. The advent of the Internet has been a godsend to my obssesive need to pre-plan and find exactly the right place to go before I leave my living room. Sure, I might miss the best local "whatever" that just opened yesterday or is too obscure to be on the web because of my control-freak nature, but I'm too old and particular to leave lunch to chance. If I'm going to make the effort and take the time, I want better than even odds that I'll enjoy the excursion.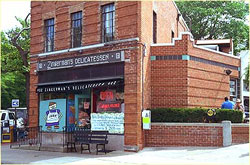 I have a vivid memory of my parents entertaining friends on Christmas Eve in 1982. My mother threw all of her Protestant tradition out the kitchen window and ordered Zingerman's pastrami on rye sandwiches with giant garlic pickles. I was enthralled by this rebellion at age six, although I had no understanding of what pastrami was. I just knew it was special.
The ingenious ingredients and thoughtful, bountiful preparation is half of the magic pf the pastrami sandwich. The other half is the Zingerman's magic, the palpable feeling of community provided by the owners, Paul Saginaw and Ari Weinzweig, who instill in all of their endeavors a familial rhapsody. (I have dined at the Roadhouse and had Ari come to the table to fill up my water glass more than a few times…enough said). In a town high on intellect, Zingerman's employment is looked upon as social cache (or junior college).