Maine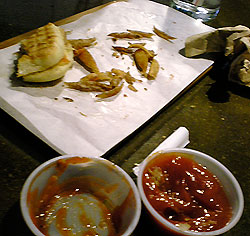 If one day, someone asks me what the best French fries I have ever eaten were, I would probably be inclined to remember Benita's Frites, this railroad-sized French fry shop on the Santa Monica promenade. Benita's introduced me to the dipping sauces, to the notion that fries can go with more than ketchup. Mustard, mayonnaise, blue cheese, barbecue sauce, ranch dressing... They served the fries in paper cones set in silver "cone-holders," for lack of a better word. It was there that I first developed the philosophy that I could live off of French fries.
Last weekend, in Portland, Maine, I found them, at Duck Fat. One of the many gourmet restaurants in Portland, the new haven for gourmet restaurants in the Northeast (Hugos, opened up a sandwich shop right next door).
At Duck Fat, they fry their French fries in Duck Fat, and they named the shop accordingly. Not only did they recreate the youthful memory I had of my favorite fries, they matured it and all but blew it out of the water. Also, they make their own soda: strawberry and anise, and ginger brew. AND, their milkshakes are insane.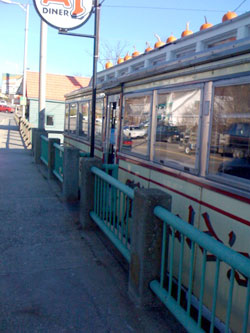 The A-1 diner at 3 Bridge Street in Gardiner, Maine is an old Worcester Streamliner diner car brought to its present location by truck in 1946 and installed on long Erector-like legs to bring it up one story to the street level. Sixty-two years ago it was called the Heald's diner and back then it was a hopping place for all three shifts of factory workers. It is still going strong and owned once again by the same family, the Giberson's. Though evolving with the times, you can still get classic diner food like meat loaf with mashed potatoes and peas but there also might be a Moroccan tagine or chicken Marbella on the same menu.
When my sister, Tanya and I go for dinner she always orders the fried smelts from the Kennebec River less than a quarter mile away and I order the fried pickled tripe. There is a classic diner menu and then there are specials. Michael Giberson and Neil Anderson have co-owned it since 1988, Michael is the chef, he does most of the cooking and sourcing of the local vegetables, fish, meats and fruit. The other cook is Bob the "biscuit maker" who has been making biscuits "steady" for 34 years. If you can figure out how he makes them I am offering a big prize, they look like they have yeast because of the height but they don't. Baking powder? Guess it is a Maine legend that deserves to be kept a secret.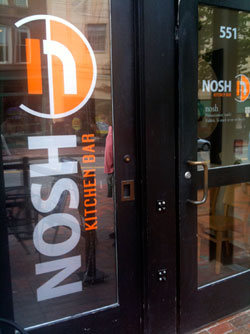 We're not really "Food TV" watchers since most of the shows make me hungry and feel inadequate as a cook, but we've recently become addicted to Man vs. Food. It's nice to live vicariously through host Adam Richman because the amount he eats per half hour show would satisfy a small village. You get to see all the fatty, gooey, meaty, spicy goodness without any of the caloric repercussions. In fact, it's the one show I watch when I'm feeling peckish because just seeing him pound down French Fry-covered, foot-long chili dogs and manhole-sized pancakes makes me so disgusted I never want to eat again. Or at least holds off my hunger until my next official meal.

While the show always ends with some outrageous eating challenge, the first two places he visits are usually local, mom & pop joints that feature a local delicacy or that take a food staple and turn it on its head. He recently did a show from Portland, Maine and since we were going to be heading thru there on our vacation, we decided to see if the food at one of his choices – Nosh Kitchen Bar – was as good as it looked. Adam ate their top of the line burger called the Apocalypse Now, which is an all natural beef pattie topped with American Cheese, seared pork belly, cured bacon, foie gras, homemade mayo and macerated cherries. It looked amazing on the show, but seemed way too rich for us. We just couldn't go there. He's an eating professional.