Los Angeles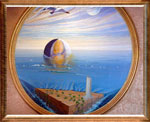 Darya in West L.A.
I wish my comfort food was as simple as mac and cheese or ice cream with chocolate sauce and gobs of whipped cream. But I grew up with a Persian mother and nothing makes me feel better than basmati rice with saffron; eggplant and zucchini in a tomato stew with veal; filet mignon kabobs, marinated and then grilled to perfection – the dishes that she raised me on. Back in high school and even to this day, my friends still invite themselves over for dinner in hopes that my mother will be cooking her legendary rice served with one of her Persian stews.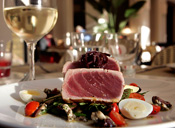 Against all odds, not one, but two excellent hotel restaurants have opened in the last few months. First, we had the Bazaar by José Andrés, the dynamic tapas restaurant in the new SLS Hotel at Beverly Hills. And now we have Fig in the Fairmont Miramar in Santa Monica.
OK, there's no ocean view: all the better to focus on chef Ray Garcia's cooking. Never heard of him? You will, because this young chef is doing something very interesting at Fig, a restaurant that doesn't feel like a hotel restaurant. Fig is not only convincing guests to stay in: Garcia is also drawing a local crowd for his bright California cooking.

My idea of a good time is dragging my sorry ass up the stairs after a long day, plopping down on the bed, snuggling with my husband and watching re-runs of Law and Order or, if God REALLY loves me, a NEW episode of Real Time With Bill Maher. This 4 star vacation is earned after a day of schlepping kids, policing homework and of course the dance of death known as feeding everyone.

I've lost the will to live at that point, so preparing food for myself is out of the question. I hastily eat something over the sink or bring things up to the bed that can be dipped or combined such as pesto with bread and diet coke, or Cheezits and Cranberry Juice. Oy.