Canada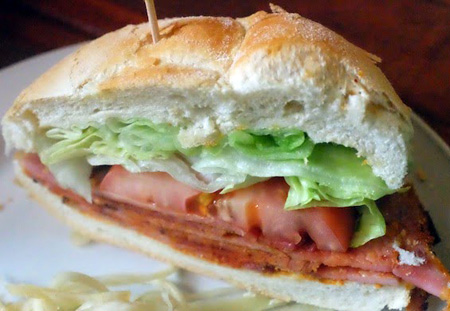 On my first trip to a city I always try to experience the things that the place is famous for, especially the food. Recently I was in Toronto which is a very diverse city with all kinds of food, but the peameal bacon sandwich is one of its most iconic specialties.
Toronto was once known as Hogtown, thanks in part to the vast stockyards where in the mid to late 1800's cured pork products like bacon were sent to the United Kingdom, where there was a shortage at the time. In 1900 over half a million pigs were processed for export in Toronto.
So what is peameal bacon exactly? It's what we call "Canadian bacon" in the US. It's made from pork loin, rather than belly, so it's much leaner than typical bacon. It's brined and cured, not smoked. It was originally rolled in ground dried yellow peas to help preserve it, but cornmeal became much more widely available in the 1900's and also preserved the meat better.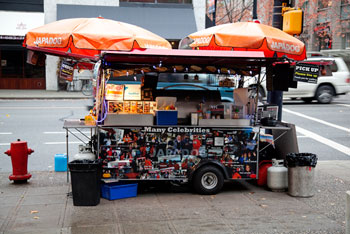 You'd think stuffing myself with Chinese food in Richmond would cause me to throw in the towel. No way. After a quick trip into Vancouver I was ready to jump into my tour of the Vancouver food cart scene with Michelle Ng, the founder of Foodie Tour. I could not have been in better hands on a rainy and extremely chilly day. Luckily, the amazing cuisine warmed me up as did the excellent company.
Vancouver has taken a very proactive approach in the establishment of food carts, issuing annual licenses on a limited basis. Each year only a small amount of trucks are introduced after an extensive evaluation process, with vendor vying for space and permits to sell their food. The hopes are that in a few years there will be dozens and dozens of more mobile places to eat, but the city is in no rush to get there. Quality and control is paramount, even if it does create a few bottlenecks in the process. Those lucky enough to be selected hold the privilege in high esteem and it's this dedication that translates to customers.