Arizona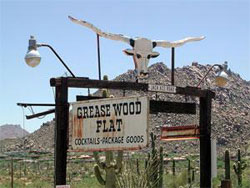 For the past decade, my husband and I seem to find ourselves in Scottsdale Arizona every Spring. Most years it's to celebrate the arrival of another baseball season by talking in as many pre-season games and hotdogs as we can pack in in a week. Others, it's to celebrate Mardi Gras with our Louisiana-born-and-bred friends who carry on the traditions of their home state despite the desert locale of their adopted home.
We made the trip, just for the weekend (too early for baseball), to take part in their Krewe of Helios bash. You would too if you had ever had their gumbo or red beans and rice. They throw a parade on their block where you get to catch as many beads as you can before stuffing your face. (Nudity is strictly discouraged. As our bodies attest, we are not in college anymore.) We had some time to kill before the reverie began and needed a place for a quick drink and a nibble. Since it was a gloriously sunny day, if it had a view of Pikes Peak, even better.
We wanted a glass of wine and antipasti on the Sassi patio, but they're only open for dinner. (Bummer.) When I suggested Greasewood Flat, which is right down the street and a complete 180-degree stylistic turn, my husband was a bit wary. We'd driven by the sign – which looked a little too "cowboy" to us city slickers – a few hundred times over the years and I had always wanted to go.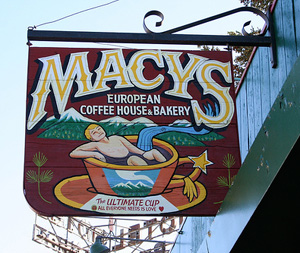 Four years ago Jeff and I took a memorable road trip through New Mexico and Arizona on the way to the Grand Canyon. I don't know what I loved more, the awe-inspiring landscapes or the outstanding cuisine we enjoyed along the way.

Of all the meals we savored, breakfasts were the most memorable. We had spicy veggie burritos, creamy skillet eggs with chiles, and crunchy blue corn French toast; each morning got better and better.

One morning we rose extra early to go for a hike. We drove to a trail on the outskirts of Flagstaff -- a small yet vibrant college town with great bookstores, niche restaurants, and lots of students wearing hemp clothing. After a grueling hike in which we encountered brown bears and fossil remains (alright, maybe not bears, but we did see several freakishly large squirrels), we made it back to town famished.

We hit the first breakfast spot we found. An enticing aroma of freshly roasted coffee lured us straight into the front door of Macy's European Coffeehouse, Bakery & Vegetarian Restaurant, a quirky eatery offering a delicious array of healthful vegetarian dishes.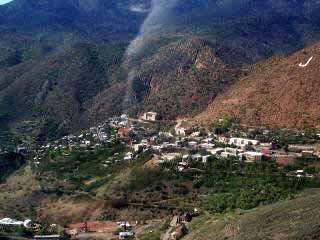 One of the things I love most about traveling is finding out-of-the-way places to visit. Especially ones that have a cool history to go along with their surroundings. Which is how we found ourselves in the old mining town of Jerome, Arizona. Well, to be honest the initial draw was the three wine tasting rooms located in this tiny town – it has under 500 permanent residents – perched on the side of a mountain with one hell of a view down. This tiny haven was founded in 1876 and sits upon what was once the largest copper mine in Arizona. At its peak, 15,000 people lived here. As you wind your way up Cleopatra Hill you will wonder where and how. It became a sort of "ghost town" once the mine shut down for good in 1953. The "Wickedest Town in the West" almost became extinct, but the men and women who grew up there refused to let it die and it is now, after some lean years, a thriving artist colony and daytripper destination for those visiting Scottsdale and Sedona.

With a history this rich, I couldn't resist staying here and since we would be spending our day wine tasting on the road to get there (and once we arrived) it was prudent to park the car and leave it for the night. What we failed to realize, was that we were in town during the "off-season" and on a Wednesday night, which left us few dining options. We were initially going to take a quick nap and freshen up before dinner, but discovered that the one place I wanted to eat 15.Quince Grill & Cantina, which specializes in New Mexican cuisine - a mix of Spanish, Native American and Mexican cultures – was only open for lunch. We were in luck though since they served until 5pm. With a half an hour to spare we rushed over to find ourselves in a cozy, yet vibrantly-colored space filled with local art inspired by the majestic scenery around us.