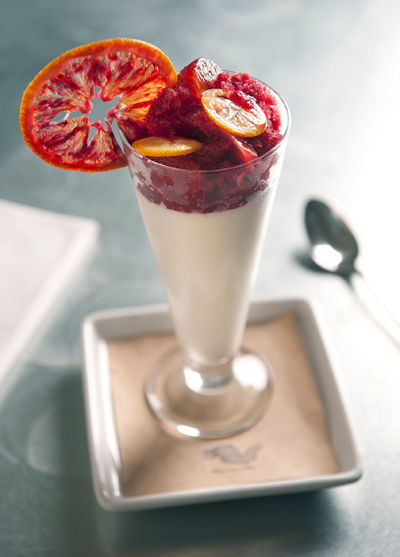 Wild flower honey panna cotta:
1½ cups whole milk
1½ cups heaving whipping cream
1/2 cups wildflower honey
2 Tablespoons granulated sugar
3½ sheets gelatin (can be found at surfas restaurant supply)
1/2 cup cream fraiche
Fill a small bowl with ice water, and insert the gelatin sheets to allow them to soften for 2 to 3 minutes. In a medium saucepan, warm the cream, milk, sugar and honey over medium heat until almost simmering. Remove from the heat.
Remove the gelatin sheets from the water, wringing out any extra moisture, and add them to the cream mixture. Stir constantly until the gelatin is dissolved.
In a large bowl, mix the crème fraîche with one-half cup of the warm cream mixture, stirring constantly, to temper. Add the remaining cream and stir well.
Fill 8 attractive 6 ounce glasses with ½ cup of the panna cotta in each glass. Allow to cool, cover with plastic wrap, then refrigerate until completely set, 4 hours or preferably overnight.
Blood orange granita:
2 cups blood orange juice
1/4 cup granulated sugar
1/4 cup water
2 tablespoons Grand Marnier
1 teaspoon vodka
Put the sugar and water in a small sauce pot. Bring to a boil and then cool the syrup down to room temperature.
Combine the cooled syrup with the remaining ingredients and whisk to combine. Pour into a shallow 1-quart container and put in the freezer.
Allow the granita to freeze for 1 hour and then, using a fork, scrap the granita every 30 minutes to form large ice crystals until the granita is completely frozen.
To serve: Thinly slice a handful of kumquats and toss them in honey. Fill the tops of each panna cotta glass with a heaping mound of granita. Tuck a few honeyed kumquats into the granita and serve.
Chef / Owner Suzanne Goin
Pastry Chef Breanne Varela
Tavern, Los Angeles ©2011