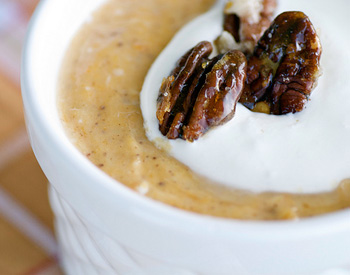 Makes 4 small or 2 large servings

Pudding:
2 cups whole or low fat milk
6 tablespoons granulated sugar
2 tablespoons corn starch
a pinch of salt
1 large egg, lightly beaten
1 teaspoon pure vanilla extract
1/2 cup canned pure pumpkin
1/2 teaspoon pumpkin pie spice

Candied Pecans:
2 tablespoons unsalted pecan halves
1 tablespoon granulated sugar
pinch of salt

Whipped Cream:
1/2 cup heavy whipping cream
1 tablespoon sugar

Combine sugar and cornstarch in a medium pot over medium heat. Add 1 cup of milk, whisking until the sugar and cornstarch are dissolved. Add the second cup of milk and salt, and bring to a simmer, stirring frequently. Lower the heat, cooking pudding for 10 minutes, stirring frequently. Remove pudding from heat for 2-3 minutes. Lightly whisk one egg with vanilla extract; slowly add to the pudding, whisking constantly. (Removing it from the heat will prevent the egg from cooking). Stir in the pumpkin and pumpkin spice. Simmer for 2-3 minutes, or until thick, stirring several times. Remove from heat and place in serving dishes.

Before you make the candied pecans, lay a piece of tin foil coated with cooking spray on the counter. Also coat your utensil with cooking spray so the sugar won't stick to it. In a medium non-stick skillet over medium heat, add the pecan halves. Sprinkle sugar and salt evenly over them. As the sugar begins to melt and coat the pecans, quickly stir them until evenly coated and lightly toasted, about 1-2 minutes. Remove from heat and slide nuts onto the tin foil, including any sugar drippings. (Avoid browning the nuts as the sugar will taste burnt.) Let cool and harden, then chop into small pieces.

Before you begin to make the whipped cream, consider these helpful tips: Start with a deep stainless steel bowl that has been chilled in the freezer for about 15-20 minutes. Chill the beaters of the electric mixer as well. Both will help to create more volume in the cream. Once ready beat ½ cup heavy whipping cream on medium-high speed until soft peaks form. Sprinkle sugar evenly over the whipped cream and beat until peaks re-form. Whipped cream can be covered with Saran Wrap and refrigerated for 1-2 hours.
--Recipe courtesy of Susan Russo at Food Blogga