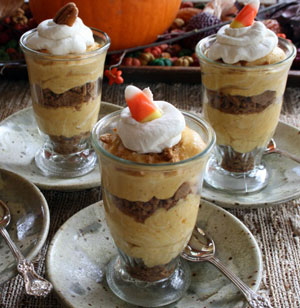 1 pint heavy whipping cream
2 tablespoons powdered sugar
2 teaspoons pure vanilla extract
1 (5.1-ounce) package vanilla instant pudding mix
1 (15- to 16-ounce) can pumpkin puree
1 cup cold milk
1/2 teaspoon ground nutmeg
1/2 teaspoon ground cinnamon
1/2 teaspoon ground ginger
Cookies or graham crackers, crushed
Pecan halves or candy corn, for garnish
In a mixing bowl, beat whipping cream with powdered sugar and vanilla until stiff peaks form. Put in the refrigerator while mixing pumpkin mousse.
In another mixing bowl, use a wire whisk to blend pumpkin with pudding mix. Gradually add milk, blending well after each addition. Add nutmeg, ginger and cinnamon and mix well. Gently fold half of the whipped cream into the pumpkin mixture.
Put a layer of crushed cookies in the bottom of custard cups or small glasses. Spoon some pumpkin mousse on top of cookies in each glass. Repeat layers of crushed cookies and pumpkin mousse as many times as you wish. If not serving immediately, cover the parfaits with plastic wrap and refrigerate. At serving time, top each parfait with a light sprinkle of crushed cookies and a dollop of whipped cream. Garnish with a pecan half or a candy corn.
Makes 8 to 10 parfaits in 4-ounce glasses.
- Recipe courtesy of Sue Doeden's All about Food.