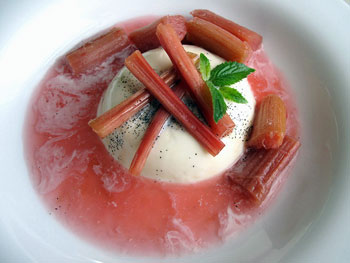 2 cups heavy cream
1/3 cup granulated sugar
2 vanilla beans
1/3 cup plus 2 tablespoons whole milk
1 packet powdered gelatin

Chill six 6-ounce custard cups.

In a small saucepan, bring heavy cream and sugar to a simmer. Split vanilla beans lengthwise and scrape, removing seeds; add to cream. Discard beans or use for another purpose.

Meanwhile, sprinkle gelatin over 2 tablespoons milk in a medium bowl.

Once sugar is dissolved and bubbles begin to form on the surface of the heavy cream, add it to the bowl of gelatin, whisking vigorously until gelatin has dissolved. Add remaining 1/3 cup cold milk and whisk until slightly cooled.

Evenly divide the mixture among the chilled custard cups. Chill for at least 2 hours or overnight.

When ready to serve, run a thin knife along the cream and dip and hold custard cup in simmering water for 15 seconds. Turn out into a small bowl. Yield: 6 servings.

Roast Rhubarb

Based on Jamie Oliver's recipe from his book Happy Days.

1 pound rhubarb, trimmed of ends and cut into 1-inch pieces
1/2 cup granulated sugar
1 cup sparkling wine
1 2-inch cinnamon stick

Preheat oven to 350 degrees F.

In a baking casserole, combine rhubarb and sugar. Bake, stirring occasionally, until rhubarb is lightly browned and tender but still holds its shape, about 20 minutes.

Alternatively, in a skillet on medium-high heat, cook rhubarb with sugar until it is light brown and tender but still holds its shape, about 10 minutes.

In a small saucepan, warm sparkling wine with cinnamon stick. Pour over rhubarb. Once cooled, chill in the refrigerator. Yield: 4 cups.

Pickled Rhubarb

Based on Johnny Iuzzini's recipe from his first book Dessert Fourplay.

Note: I prefer homemade grenadine to the store-bought kind, which is laden with artificial flavor and coloring. To make your own, bring 2 cups of pomegranate juice to a boil and then lower to a simmer. Once reduced by half, add 1 cup granulated sugar and heat until dissolved. Once cooled, store in a jar in the refrigerator. Yield: 1 cup.

1 pound rhubarb, trimmed and cut into 1-1/2-inch-by-1/4-inch matchsticks
1/2 cup sherry vinegar
1/2 cup rice vinegar
1 cup honey
3 tablespoons grenadine
1 tablespoon salt
2 star anise

Place rhubarb in a large heatproof container or 1-quart jar.

In a small saucepan, combine remaining ingredients and bring to a boil. Let cool slightly. Pour over rhubarb and cover with plastic wrap or jar lid. Once cooled, chill in the refrigerator. Yield: 4 cups.
-Recipe courtesy of Gastronomer's Guide.