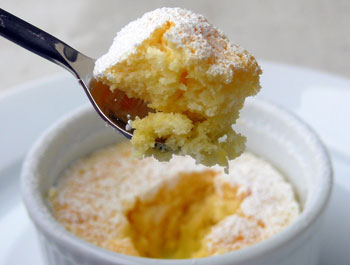 From Everyday Food
Serves 8

2 Tablespoons unsalted butter, melted, plus more, room temperature for ramekins
1/3 cup all-purpose flour (spooned and leveled)
1/2 teaspoon baking powder
1/4 teaspoon table salt
3 large eggs, separated
3/4 cup granulated sugar
1 teaspoon finely grated lemon zest, plus 1/3 cup lemon juice (2 lemons)
1-1/4 cups whole milk
confectioners' sugar for serving

Preheat oven to 325o. Butter eight 6 ounce ramekins. Set in a shallow baking pan. In a medium bowl, combine flour, baking powder and salt.

In a large bowl, whisk together egg yolks with 1/2 cup granulated sugar until pale and smooth. Whisk in butter, lemon zest and juice, milk and flour mixture.

In a large bowl, using an electric mixer, beat egg whites with 1/4 cup granulated sugar until stiff peaks form, 5 minutes; fold into batter. With a ladle, divide batter among ramekins (keeping sides clean). Pour enough hot water into baking pan to come halfway up sides of ramekins. Bake until cakes are puffed and slightly golden on top, 30 minutes. Dust with confectioners' sugar and serve immediately.

Baking the cakes in a water bath creates an even, gentle cooking environment when lends to a mist, silky texture.
- Recipe courtesy of Cathy Pollak