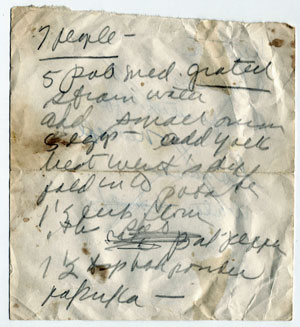 JOY REBACK'S 7 PEOPLE or GRANDMA SARAH'S SECRET LATKES
About the scrap of paper written in my mother's inimitable scrawl entitled "7 People:" I found it under 'P' in the alphabetized recipe box I had given her one Chanukah in a failed attempt to organize her. I was baffled. What the hell is "7 people," I wondered, and why is it under the letter 'P?' After comparing it to my cousin Jan's, I realized it was my mother's shorthanded version of Grandma Sarah's recipe which of course would be filed under 'P.' For Potato Pancakes. Oh, and it serves 7 people. Natch.
Ingredients
5 medium sized potatoes
5 eggs, separated
1 onion, peeled
1 – 1½ cups cake flour
1 1/2 teaspoons baking powder
1 teaspoon salt
Dash pepper
Splash paprika
Vegetable Oil for frying

Mix dry ingredients in a bowl. Set aside.
Grate onion on a box grater into a bowl. Set aside.
Beat egg whites until stiff peaks form.
Lightly beat egg yolks.
As quickly as you can, peel potatoes and grate them on the 'shredding' side of the box grater into bowl with onion.

Picking up handfuls, squeeze out all the liquid from the potato mixture. Return to bowl. Mix in egg yolks. Stir in the dry ingredients. Fold in the egg whites.

In a skillet, heat oil till very hot. Drop batter by spoonfuls into hot oil. Fry on each side till golden brown and cooked through.
Drain on brown paper bags.

Serve with bowls of homemade applesauce and sour cream.
(kr)