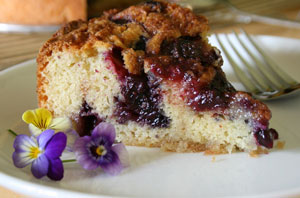 1/2 cup butter, room temperature
2 cups sugar, divided
2 eggs
1/2 cup milk
1 teaspoon pure vanilla extract
1/2 teaspoon salt
2 cups all-purpose flour
2 teaspoons baking powder
1 pint fresh blueberries, rinsed
2 teaspoons freshly squeezed lemon juice
1 teaspoon cinnamon
Preheat oven to 375 degrees. Lightly grease the bottom of a 9-inch springform pan. Set aside.
Using a spoon, mix butter, 1 1/2 cups sugar, eggs, milk, vanilla, salt, flour amd baking powder. Spread batter into prepared pan.
Toss blueberries with lemon juice in a large bowl. In another smaller bowl, mix remaining 1/2 cup sugar with 1 teaspoon cinnamon. Mix cinnamon-sugar with blueberries. Arrange blueberries over batter in pan. Bake in preheated oven for about 1 hour or until a cake tester inserted into middle of cake comes out clean. Transfer to a wire racke and cool for 15 minutes. Remove the side of the pan. Serve cake warm or at room temperature. 8 servings.
- Recipe courtesy of Sue Doeden's All about Food.