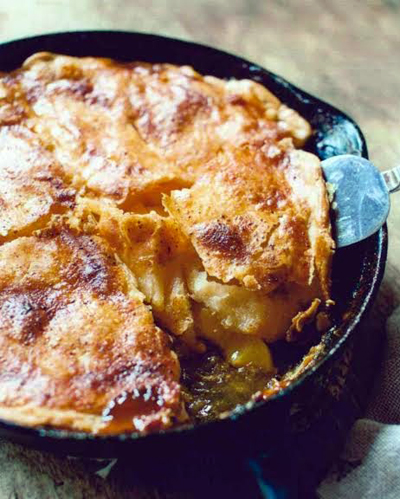 Recipe from A Time to Cook – Dishes from My Southern Sideboard
Photography by Helen Norman
2 piecrusts*
12 or so peaches, peeled or skin on
3 1/2 tablespoons minute tapioca
1 scant cup sugar
1/2 teaspoon almond extract
2 tablespoons cinnamon, divided
3 tablespoons drawn butter

1/8 cup vanilla sugar**
Preheat oven to 350 degrees F.
Roll out the piecrusts, lining the dough into a deep-dish iron skillet. Reserve the second crust for the topper; cut out leaf shapes or weave a lattice if you're feeling crafty.
Mix together peaches, tapioca, sugar, almond and 1 tablespoon cinnamon in a large bowl; set aside.
Add peach mixture to the pie pan and then start your leaf topper. Begin in the center and work outwards, covering and layering the leaves in rough concentric rings. If not using leaf shapes, just cover the pie and seal the top edges to the bottom crust with fingers or a fork.
Glaze the top with the drawn butter and then sprinkle with a mixture of vanilla sugar and remaining 1 tablespoon cinnamon. If the top is a solid piece, cut a couple of slits for ventilation. Place pie pan on a baking sheet in case of spillovers, and bake until golden and bubbly, about 1 hour. If you want it pretty for serving, let it rest; otherwise, dig right in! Peach mush tastes just fine!
Serve warm with vanilla ice cream – or homemade crème fraiche.
- Recipe courtesy of James T. Farmer III from his blog All Things Farmer.