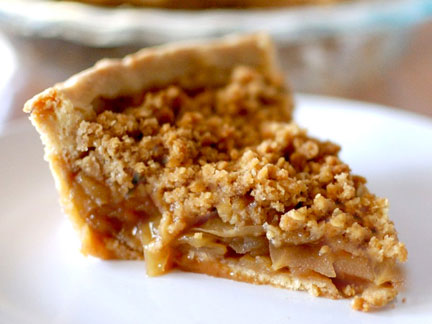 Streusel Topping:
3/4 cup all-purpose flour
1/2 cup packed light brown sugar
1/2 cup granulated sugar
1 teaspoon ground cinnamon
1/8 teaspoon salt
12 tablespoons unsalted butter, cut into 1/2-inch pieces and chilled
3/4 cup old-fashioned oats
1/4 cup finely chopped pecans or almonds
1. Pulse flour, sugars, cinnamon, salt to combine. Add butter and process until mixture has texture of coarse crumbs (some pea-sized pieces of butter will remain), about 12 one-second pulses. Transfer to medium bowl, stir in oats and nuts, and use fingers to pinch topping into peanut-sized clumps. Refrigerate while preparing filling.
Apple Pie:
1 pie crust shell, store bought or homemade
3 1/2 pounds apples, peeled, cored, and sliced 1/4 inch thick (use one type or a variety – I prefer a mix of Braeburn, Golden Delicious, and McIntosh apples)
2-4 tablespoons flour (depending on juiciness of apples)
1/4 - 1/2 cup sugar (depending on sweetness of apples)
1 teaspoon lemon zest from 1 medium lemon
1/2 teaspoon cinnamon
1/4 teaspoon allspice
1/4 teaspoon nutmeg
1/4 teaspoon salt
1 tablespoon lemon juice
1/4 cup heavy cream
1. Position rack in lower third of oven and place empty rimmed baking sheet on rack, preheat to 400°F.
2. Fit pie crust into 10" deep dish pie plate and flute or crimp edges. Chill.
3. Combine flour, sugar, cinnamon, allspice, nutmeg and salt and toss with apples and lemon juice to combine. Place apple mixture in pie shell, they will mound very high – press down slightly. Pour cream over top. Gently apply streusel topping to apples, pressing it into the slices. The streusel should cover the apples but not cover the edge of the pie shell.
4. Place the pie on preheated baking sheet; bake for 25 minutes, then transfer to center rack, reduce temperature to 350°F and bake an additional 45-60 minutes; pie should be golden brown and apples will be tender when tested with a sharp knife or skewer.
- Recipe courtesy of Cook Like James