I hate matzoh. There, I've said it. I may be Jewish but matzoh sure feels like penance to me. It was bad enough my ancestors had to wander through the desert for forty years, but adding insult to injury, they had to eat crumbly crackers with all the flavor of cardboard. I know there are some people who claim to love eating matzoh, but frankly, I don't buy it. Sure, slathered with butter and liberally sprinkled with kosher salt or cinnamon sugar improves the taste of matzoh, but that treatment would work on just about any kind of tasteless cracker or bread. Don't try to sell me on flavored matzoh. Flavored matzoh tastes artificial. Whole wheat matzoh has to be the worst. I've never heard anyone even claim to like it. It's what I imagine must be served in jails or orphanages.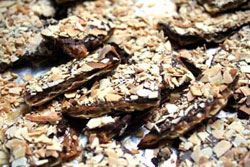 So I have come to the conclusion there are two things you can do with matzoh to make it more palatable. One is coat it in chocolate and nuts and make something I call "Toffee Chocolate Matzoh Crunch." The original recipe comes from Marcy Goldman. The other is to go whole hog, so to speak. If butter and salt are good, then fried bacon and onions are pure heaven.
I wish I could tell you it was my idea, but my uncle Milt was the one who developed Bacon and Onion Matzoh Brie. For the gentiles among us, matzoh brie is kind of like Jewish french toast. Basically matzoh is broken up, soaked in warm water to soften it, then dunked in beaten eggs and sauteed. It's not half bad, but like everything else, it's better with bacon.

This is a great recipe for kids to make and is the perfect thing to bring to a Passover seder. I should know, I bring it every year.

Toffee Chocolate Matzoh Crunch
Serves 4

2 sheets of matzoh
1/4 cup butter (or margarine if you are keeping kosher)
1/4 cup brown sugar
2/3 cup chocolate chips
2-3 Tablespoons chopped nuts--any kind but I like pistachios

Preheat the oven to 400°F. Place the sheets of matzoh on a greased sheet of aluminum foil on a cookie sheet. In a small saucepan, melt the butter and brown sugar until combined and smooth, then pour it over the matzoh as evenly as you can and bake it until bubbly and slightly toasty looking, maybe 5-7 minutes.

Remove from the oven then sprinkle the chocolate chips on the matzah. You have to leave it for a minute or two to melt enough so you can spread the chocolate evenly across the matzah using a flexible spatula. While the chocolate is still warm, sprinkle it with chopped nuts. Put in the fridge until it hardens then break it into pieces and store in an air tight container.
Who are you kidding? You're not keeping kosher anyway. Give this one a try.
Bacon and Onion Matzoh Brie
Serves 4

4 sheets of matzoh
4 eggs
1/2 cup milk
Salt to taste
Fresh ground pepper to taste
1 large onion, chopped
2-4 slices bacon, chopped

Break the sheets of matzoh into pieces and soak them in warm water in a large bowl until soft but not soggy. Drain well.

In another bowl, beat the eggs with the milk, salt, and pepper. Combine the matzoh with the eggs.

Cook the onions and bacon in a large heavy skillet over medium heat; when the bacon is cooked and the onions are beginning to get brown, add the matzoh mixture and stir. Cook over medium heat. Stir with a wide spatula, keeping the matzoh in large scrambled pieces.

Amy Sherman is a San Francisco–based writer, recipe developer, restaurant reviewer and all around culinary enthusiast. She blogs for Epicurious , Bay Area Bites and Cooking with Amy .