We really wish someone was making this for us tonight...or perhaps their Cabernet-Braised Lamb Shanks with Root Vegetables.- The Editors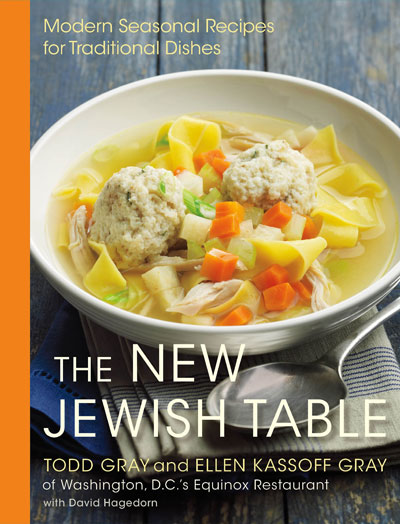 When Chef Todd Gray, who grew up Episcopalian, married his wife, Ellen Kassoff, their union brought about his initiation into the world of Jewish cooking. More than a love story about what one can do with fresh ingredients, Todd and Ellen talk about the food they grew up with, their life together, and how rewarding the sharing of two people's traditions—and meals—can be.
In 1999, Chef Todd Gray combined his love for farm-to-table ingredients with his passion for Jewish cuisine opening the acclaimed Equinox Restaurant in Washington, D.C. The restaurant is a gathering place for Washington lawyers, deal makers, and it even welcomes Presidents and their wives who want a quiet meal alone in the real world.
Gorgeous design, appetizing full-color photographs and sidebars from Washington's elite including: BET co-founder and president of Salamander Hospitality Sheila C. Johnson, R.W Apple Jr's wife Betsey Pinckney Apple, Chef Jose Andres, The New Jewish Table: Modern Seasonal Recipes for Traditional Dishes
is sure to please everyone from traditional Kosher cooks to high-holiday hosts.
Not Exactly Aunt Lil's Matzo Ball Soup
by Todd Gray and Ellen Kassoff Gray
Serves 6
Ingredients:
Matzo Balls:
3 large eggs
2 tablespoons unsalted butter, melted
1/4 cup club soda
1 cup matzo meal
1/2 cup chopped Caramelized Onions (recipe follows)
1 teaspoon salt
1/8 teaspoon freshly ground black pepper
Soup:
One 3-pound whole chicken
1 large yellow onion, quartered
2 celery ribs, chopped
2 small carrots, chopped
1 medium turnip, chopped
6 garlic cloves, crushed
1 bunch parsley, washed and blotted dry
2 bay leaves
4 sprigs fresh thyme
12 black peppercorns
2 tablespoons salt
Garnish:
2 cups finely diced carrots
2 cups finely diced celery
1 cup finely diced turnips
3 cups fresh egg noodles or packaged dry noodles
1/2 cup thinly sliced scallions, including some of the green
Make It Meat. Substitute margarine for the butter.
Mix the matzo balls. Whisk together the eggs and melted butter in a large bowl. Whisk in the club soda and then whisk in the matzo meal, Caramelized Onions, salt, and pepper. As the mixture thickens, tap off excess batter from the whisk and switch to a wooden spoon or rubber spatula to finish mixing into a dough. Cover the bowl and refrigerate for 1 hour.
Make the soup. Meanwhile, remove the gizzard and liver from the chicken and reserve for another use. Wash the chicken under cold water and cut into eight pieces. Place the chicken in a stockpot large enough to comfortably hold it; add the onion, celery, carrots, turnips, garlic, parsley, bay leaves, thyme, peppercorns, and salt. Pour in water to cover the chicken. Bring to a simmer over high heat, lower the heat to medium-low, and simmer the soup for 1 1/2 hours.
Cook the matzo balls. About an hour before serving the soup, bring a large pot of lightly salted water to boiling. Spoon two or three ladles of soup into the pot of water for added flavor. Shape the matzo dough into balls about 1 ½ inches in diameter, rolling them between your palms (moisten your hands with a touch of water first). Add the matzo balls to the boiling water, cover the pot, and simmer until cooked, about 30 to 40 minutes. Use a slotted spoon to transfer the matzo balls to a paper towel–lined plate to drain; keep warm. Finish the soup. Transfer the chicken to a cutting board and allow to cool. Pour the broth through a sieve into a bowl and discard the vegetables; pour the broth back into the pot and keep warm. Pull or cut the chicken from the bones and pull the meat into bite-size pieces, shredding with your hands; set aside.
Garnish the soup. Preheat the oven to 250°F. Add the diced carrots, celery, and turnips to the pot with the broth and simmer 10 minutes. Place six large soup bowls in the oven to warm. Add the noodles and chicken meat to the pot and simmer until the noodles are tender— about 7 minutes more. Remove the bowls from the oven and spoon 3 matzo balls into each, add a generous spoonful of vegetables, noodles, and meat, and then ladle in broth to fill the bowls. Sprinkle the sliced scallions over the top of each bowl, dividing equally.
Caramelized Onions
Makes about 2 cups
Thinly slice enough yellow onions to equal 3 cups (2 medium onions). Heat 1/4 cup canola oil in a medium sauté pan over medium heat. Stir in the onions and 1/4 teaspoon salt and cook for 4 minutes. Lower the heat to low and continue to cook the onions, stirring often, until they turn amber in color—20 to 30 minutes. Drain in a colander and store in the refrigerator until ready to use, for up to 4 days.
Recipe courtesy of THE NEW JEWISH TABLE: Modern Seasonal Recipes for Traditional Dishes. St. Martin's Press / March 2013 / Hardcover / $35.00/ISBN 1-250-00445-4) by Chef Todd Gray and his wife Ellen Kassoff Gray,