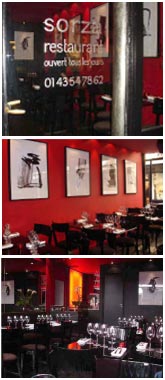 The Isle St. Louis is like the Nantucket of Paris. One of the ancient islands in the middle of the Seine, with Notre Dame at its tip and many picturesque bridges connecting it to the Left and Right Banks, its narrow streets are quaint and relatively free of traffic, with a concentration of shops and galleries; therefore, it tends to be much populated by Americans, who don't seem to have been discouraged either by the metro strike or by the plunging dollar from flocking there.

Restaurants on the Isle St. Louis fall into a few definite categories: there are a number of former 17th century taverns still going strong, there are several serviceable brasseries, none of them true destination spots, and there are some traditional four- and five-table bistros. Earlier in the day, however, my husband has noticed a restaurant called Sorza, whose outside-posted menu had reminded him of the late lamented Alto Palato, on L.A.'s own La Cienga Boulevard—that is to say, northern Italian with a light touch. And although he acknowledges that on this cold, rainy night, the narrow, red-lit interior with only a solitary couple sitting against the wall accords perhaps all too closely with his preference as to ambience (in his view, the more deserted and depressing a restaurant, the more appealing it is), we decide to give it a try.

And it's a good thing we're together. For one thing, although the couple sitting against the wall is—no surprise—American, the Italian proprietor's English is several degrees more opaque than David's less-than-fluent French, so I'm able to be useful, although even my semi-impeccable accent doesn't aid with my understanding of the word "poulpe," which turns out to mean octopus, one of the ingredients in a starter salad David eventually orders.( It turns out to be almost as superb as the aubergine fondante—a thin, meltingly tender, plate-sized slice of grilled eggplant with cheese dissolving from the heat on top of it—I choose for an appetizer.)

For another, it helps to have each other to look at, at first incredulously, and then with increasing horror, as a group of five American teen-age girls troop in (leaving the door open to the cold behind them), arrange themselves at two tables they push together, and proceed to bray, to the proprietor and to one another, as loudly as if they were all by themselves watching t.v. in somebody's family room, things like "So, Monsieur, like, what size are your wine bottles?" and "Is that something that, like, three of us could, like, share?" and "Well, I bet I walked farther than you did..."



We try to ignore them—they are, in fact, sitting fairly far away from us—as our main courses arrive. The food is so good that we're temporarily successful. David has ordered one of the six or seven available risotto preparations, with gambas (a kind of prawn), and from the multiple available pastas (there are also poultry,meat, fish and vegetarian dishes on the menu), I've opted for ravioli filled with spinach, pumpkin and ricotta. Each dish is at that midpoint between yielding and resistant that marks real kitchen accomplishment, and the sauces are terrific.

But the girls' voices are so piercing that they fill the space, and soon, despite ourselves, the girls' interaction becomes irresistably hypnotic, too. It's impossible not to notice the power dynamic—a pony-tailed brunette with her back to the room is in complete control of the conversational agenda, of who's allowed to speak, and when, and for how long. ("But she's not even the prettiest," says David, when I call this to his attention; I explain to him about the queen bee syndrome and how it works.)



Even when people begin to fill up the restaurant...and some them are French, and one man in particular looks like Bernard-Henri Lévy—perhaps it is Bernard-Henri Lévy ducking out with a statuesque blonde for a quiet dinner on the Isle... there's something horrifyingly pre-emptive about the phrases floating through the room."So, I, like, said, 'Jackson, take your hand off my ass now, or there's not going to be the rest of summer vacation to talk about...'" I don't think any middle-aged man from the Midwest wearing Bermuda shorts and socks with his sandals has ever made us feel so uncomfortable about being compatriots.

Finally, a couple sits down at the table between us and the girls, and miraculously the noise is blocked, and miraculously also, the man asks, "Est-ce que ça vous dérange si on fume?"—that is to say, "Will it bother you if we smoke?"—which, though it actually makes me feel liberated, since I hadn't realized there was a grace period to the new French restaurant regulation and I'm thrilled to be able to have a cigarette myself, is definitely the first time in France that anyone has ever asked David that question, and this leads us both to reflect on how generally less surly the Parisians seem to us on this trip, compared to what their attitudes have been in the past—almost as if they can afford to be more gracious to us as vanquished people now, with our dollar worth so little and our standing in the world so low.

And while we're discussing this, and while I have a coffee, and we wonder whether there is any correlation at all between this shift in attitude and the marked diminishment of the amount of dog shit in the Parisian streets, the teenage girls gather themselves up, and flinging on their coats and scarves as they move towards the door, proceed out of the restaurant—leaving, not surprisingly, the door wide open behind them. And the man of American couple sitting against the wall, who'd been the one to close it when the girls came in, reaches out to close it again, and everyone in the restaurant, from every nationalité, looks at each other and we all give each other complicit smiles.


Sorza
51, rue Saint Louis en l'Ile 75000 IVème
Téléphone : 01 43 54 78 62
30-60€/ Menu à 18€ au déjeuner
closed Sundays

Jamie Wolf is a journalist, photographer and gardener, and the vice-president of the writers' organization, PEN USA. She lives in Beverly Hills with her husband David, a screenwriter, and their springer spaniel, Alice.
Los Angeles


by

Rachel Parker





photo: Joshua Lurie/944.com

With a sensibility learned from fairy tales, one would expect a baker, the conjurer of butter,...

Read more...

Los Angeles


by

Lisa Dinsmore





I've studied wine for a decade and have worked on my palate, expanding my personal taste to include styles from all over the world. Red, white, sparkling, dessert. I've tried them all. Yet, when...

Read more...

Northern California


by

Scott R. Kline





The Mountain Room restaurant at Yosemite Lodge in Yosemite National Park in California is a great place to have a burger after a hike. If you have never visited Yosemite, there are plenty of...

Read more...

London - British Isles


by

Laura Johnson





It's no secret that my best friend, Missy and I love to travel. We met 25 years ago in the parking lot of a Winn Dixie grocery store in Valdosta, Georgia. I was in college there and she was...

Read more...