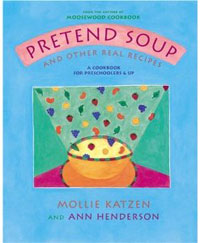 One of the highlights of my experiences in Portland, Oregon was the dinner I had at the 2010 James Beard award-winning Higgins Restaurant and Bar. The dinner was hosted by the the California Walnut Board and best-selling cookbook author, Mollie Katzen.
I couldn't wait to meet Mollie. I have her book, "Pretend Soup," a cookbook for preschoolers and up. I used it often when I worked in the early childhhod field. Because I loved "Pretend Soup"
so much, I had to buy "Honest Pretzels"
several years later. Mollie Katzen wrote this cookbook for grade-schoolers and up. I knew it would be a good one to enjoy with my grandchildren.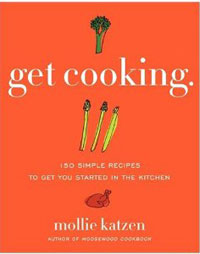 It was no surprise to discover Mollie is just as delightful as the darling illustrations she has created for her books. Her eyes begin to sparkle as she talks about her work to get families to eat more healthful meals, bridging the gap between good taste and good health. Her newest book, "Get Cooking"
makes it easier for the beginner cook to get into the kitchen, gain confidence and have fun creating meals. And for more experienced cooks, the cookbook is proof that it doesn't have to take all day to make a healthful dish and that healthful food can be absolutely delicious.
Mollie Katzen gave a copy of "Get Cooking" to each of us who attended the dinner. There were about 30 of us who had the privilege of enjoying the "walnut dinner" created by Chef Greg Higgins, featuring healthful walnuts. And plenty of wine, chosen to pair perfectly with the meal.
Was I the only one trying to discreetly snap a picture of each plate placed in front of me? I couldn't count on my mind to remember each detail of every plate that looked like a beautiful piece of art.
I didn't get a shot of the Amuse Bouche of walnut skordalia, carrot tzatziki and Higgins charcuterie plate with house-made pickles. But, I will tell you that it did, indeed, tease my tastebuds. As if I didn't already feel excitment about the meal to come, this Amuse Bouche sealed the deal.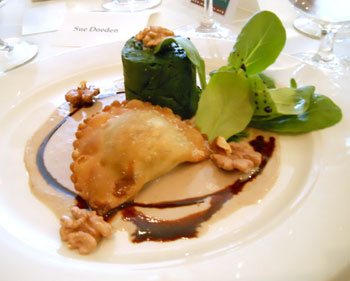 The first course was Soused Spinach with wild greens and chevre kalitsournia and lemon-walnut puree. The kalitsournia was a hand-sized Greek-style filled pastry turnover that reminded me of a miniature pastie. The Soused Spinach is an example of how elegant fresh, simple and real food can become when it is presented in a unique, creative style. Blanched spinach leaves are drained well, then stacked on plastic wrap and rolled up like a log. Then, the log of spinach is sliced. Isn't it amazing how variety of height on the plate can give the food an exquisite appearance? Chef Higgins takes advantage of the fact that we first eat with our eyes. He definitely knows how to titillate our eyes as well as our tastebuds.
Our second course was Horseradish-Crusted Alaskan Halibut, cheddar polenta, asparagus and an orange beurre blanc. And dessert...enough to take my breath away! Warm Maple-Walnut Tart with brandied Chantilly cream.
I left Higgins Restaurant that night with a very full tummy, a few new friends, an even greater appreciation for the very-talented Mollie Katzen, admiration for Chef Greg Higgins and a copy of "get cooking."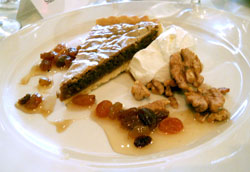 Mollie Katzen and Chef Greg Higgins are members of the newly-formed Chefs Council, the first of its kind launched by the California Walnut Board. Its mission is simple, yet ambitious: to determine the necessary steps needed to transform the current American menu into one providing healthful and delicious food options. It will be interesting to see what we hear from the Chefs Council in the future. They have their work cut out for them.
Just the other day I received all the recipes for that evening's menu. I'll be trying to recreate them myself and I'll be sharing the results with you here.
For now, the Soused Spinach with Walnut-Lemon Puree. I think the Walnut-Lemon Puree would be wonderful served with some of the locally-grown asparagus that I was just able to buy this week at my local food co-op. Or, drizzled over a salad of fresh greens or baby spinach leaves.
Wondering what soused spinach is? I did too. It's spinach that's been plunged or immersed in liquid. In this recipe, it is basically blanced spinach.
Soused Spinach with Walnut-Lemon Puree
from Chef Greg Higgins
1 bunch spinach, washed (leave the stems attached to the leaves)
1½ cups California walnuts, toasted
1 tablespoon minced garlic (2 large cloves)
¼ cup fresh lemon juice
2 teaspoons finely grated lemon zest
¼ cup olive oil
½ – 1 teaspoon, more or less, hot chili sauce (available in the Asian foods section of most supermarkets), or hot pepper sauce
Salt and pepper to taste (optional)
2 – 4 tablespoons water, if necessary
Bring a large pot of lightly salted water to the boil, add the spinach and blanch for a few seconds, just until wilted. Alternately, put the spinach in a large bowl, with just the water clinging to the leaves, then cover and microwave on high for 2 – 3 minutes, just until wilted. Drain the spinach well and refresh it in cold water. Drain again, pressing gently to remove excess water. Remove the stems from the leaves and set aside. Tear off a good-sized sheet of plastic wrap and place it on your work surface, its length stretching in front of you. Stack the spinach, alternating stems and leaves, to form a log-like bundle about 8 inches long on the bottom edge of the plastic wrap. Roll the plastic wrap up, tightly like a carpet, to snugly enclose the spinach. Squeeze the wrapped log gently, so excess water drips from the ends, and then seal the ends. Set aside.
To prepare the walnut lemon puree, put the walnuts in a food processor with the garlic, lemon juice, lemon zest and olive oil. Process until smooth and blended, then season to taste with chili sauce, salt and pepper. If the puree is too thick to spread evenly, thin it with some water. Scrape into a bowl, cover with plastic wrap and set aside.

When you are ready to serve, divide the walnut puree among 4 plates, spreading it evenly. Unwrap the spinach log and with a sharp knife cut it into about 8 (1-inch) slices, depending on the height you wish to acheive. Place two slices near the center of each plate; if the slices break apart, simply push them back together. Makes 4 salad servings.
Sue Doeden is a popular cooking instructor, food writer and integrative nutrition health coach. She is the host of Good Food, Good Life 365 on Lakeland Public Television. Her own hives full of hardworking bees and her love of honey led to the creation of her recently published cookbook, Homemade with Honey.