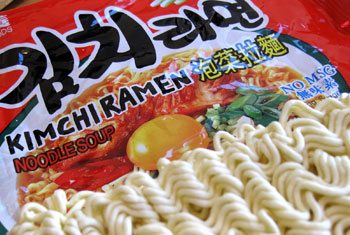 I've been trying to convince my sons that ramen is good for them. They're both living on their own. They are serious about eating healthily and keeping to a budget. They keep down their costs by avoiding processed foods and fast food joints. They shop at Costco and buy in bulk.
Which is why I've been trying to get them to think about ramen. A package costs under $1.00 and if you make your own soup and add farmers' fresh vegetables, you'll have an economical, nutritious meal.
The problem is when they were kids they ate lots of Cup O'Noodles and Instant Ramen with hot water flavored with artificially flavored soup packets. In no way am I talking about that.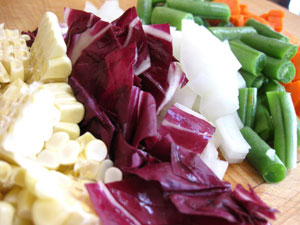 Tracking down a better kind of ramen takes a small amount of work. The local supermarket may only have Top Ramen which is ok but not preferred. If you live in an area with Asian markets, you'll find a wider selection of brands. In Los Angeles, we have Chinese, Vietnamese, Japanese, and (my favorite) Korean markets where there are so many choices there's a ramen aisle.
Look for ramen noodles that don't use MSG or artificial ingredients. And throw away the powdered soup packets.
For the soup you can use any homemade stock you like: chicken, beef, or pork. I like making a sauteed vegetable stock. Throw in cooked chicken, raw shrimp, or a sliced hard boiled egg and you have a deliciously satisfying meal that costs pennies.
Ramen Noodles with Farmers' Market Fresh Vegetables & Kimchi
You can use just about any vegetable, meat, or seafood you like. Kimchi adds a nice crunch and the heat is delicious.

Yield 4 servings

Time 30 minutes

Ingredients

2 packages ramen noodles, discard the soup and flavor packets
1 carrot, washed, peeled, cut into pieces 1/2" square, 1" long
4 radicchio leaves
1/2 medium yellow onion, skins removed, roughly diced
2 garlic cloves, finely diced
8 shiitake mushrooms
1 ear of corn, kernels removed
1/4 pound string beans, strings and ends removed, cut into 1" lengths
10 cups water
1 tablespoon soy sauce
2" piece of fresh ginger, peeled, cut into thin strips (optional)
1 cup kimchi, cut into thin strips
Sea salt and pepper
1 tablespoon olive oil

Method

Drizzle the olive oil seasoned with sea salt and pepper on a large saute pan. Saute the vegetables except the kimchi until softened and lightly browned. Add 6 cups of water and simmer for 20 minutes until reduced by half. Taste and adjust the seasoning. Add soy sauce.

In a large pot, boil 4 cups of water. Add the ramen noodles and cook uncovered for 5 minutes or until al dente. Stir frequently to prevent the noodles from sticking together. Reserve 1 cup of the noodle water. Strain the noodles and add to the vegetables and broth.

Taste and add the noodle water if more liquid is needed.

Serve in bowls with chop sticks and spoons.

Variations

Top each bowl with 1/2 a hard boiled egg, thinly sliced

Instead of radicchio use 1 bunch of spinach, washed, whole leaves or roughly chopped

Instead of water, use chicken, pork, or beef stock to make the soup

Add 1 cup raw shrimp, washed, peeled, deveined, and roughly chopped to the soup when you add the noodles and simmer 5 minutes until the shrimp are pink

Top with thin slices of soy sauce marinated, grilled chicken, pork, or beef
David Latt is an Emmy-award winning television producer who turns to cooking to alleviate stress. He shares his experiences with food and his favorite recipes on his blog Men Who Like To Cook.