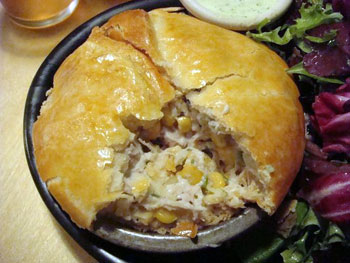 I am on a constant hunt for The Chicken Pot Pie. A hunt that has become dangerously like an obsession. I talk about it constantly. My close friends are pretty much bored with my singular food quirk. I, decidedly, am not. I was talking to a friend of mine at work, groaning over the lack of flavorful snacks in our immediate vicinity and she mentioned The Chicken Pot Pie. I was floored, to say the least. How did she know? Perhaps I was going on about it. Again
She directed me to a restaurant in downtown Los Angeles called WoodSpoon. I made a beeline after work to 9th and Spring, around the corner from the Fashion Mart. WoodSpoon smells like spices and the comfort of home. I ordered one of the last Chicken Pot Pies. (Apparently, they're famous for them.) It arrived topped with a light flakey crust and chock full of savory, shredded chicken and fresh corn with just enough spice to take it from the blandness that it's chicken pot pie brothers and sisters often have.
Wow. What a relief to finally find the thing that I have sought throughout a dining eternity! A perfect chicken pot pie. I recommend washing it down with a Brazilian soda. So satisfying.
WoodSpoonLA
107 W 9th St
Los Angeles, CA 90015
(213) 629-1765
Cathy Cooper is an artist with a job living in Los Angeles.