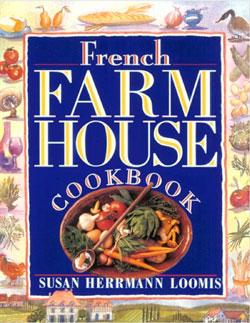 Once upon a time, a long time ago, I decided to go on a liquid fast to lose weight. Needless to say, living on 400 calories a day of fake "milk shakes" is hell, but one strategy, which may sound counter-intuitive, was particularly helpful in getting me through 14 weeks of deprivation: I kept a stack of cookbooks next to the couch and another one by my bed. Reading recipes replaced eating recipes, and I lost a lot of weight. By the time I was ready to eat again, it turned out that I had replaced one addiction for another. My craving for cookbooks filled five shelves and then spilled onto the counters in my den.
Coupled with the many boxes of antiques scattered around the room, I kept expecting the camera crew from "Hoarders" to knock on my door. But what was I to do when I bought Susan Hermann Loomis' "Farmhouse Cookbook" for its Best-Ever Chocolate Cake recipe, and then, five years later, her "French Farmhouse Cookbook" is released, with another chocolate cake recipe that says, "I thought I'd found the best-ever chocolate cake…but just when you think you've tasted the best there is, something better comes along"? Naturally, I had to buy that one, too. Eventually, it dawned on me that even if I made a new recipe every day for the rest of my life, I still couldn't make all the ones I wanted to try in my 250+ cookbooks.
Thus began the cookbook fast.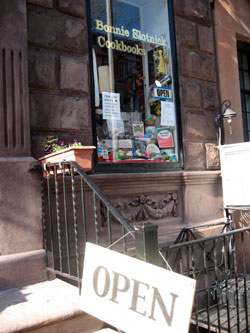 It's been over five years, and I've cheated very rarely (yeah, there was that Chocolate Box book and Ruth Reichl's "Gourmet Cookbook" and Claudia Roden's exceptional "Arabesque"), but something happened recently which made me forgive my cravings and accept that buying and reading cookbooks is too much fun to give up, kinda like stuffing your face with impunity. This change of heart began when I stumbled upon a used cookbook shop in Manhattan owned by Bonnie Slotnick. I don't know how I'd missed it all these years, with a cousin two blocks away and a friend around the corner, but I had. It's a wonderful place. Then, with cookbook mania at full-throttle when I got back to LA, I drove out to Pasadena to check out a used bookstore I'd heard of for years but had never been to: Janet Jarvits' Cookbooks. Also a trip.
Bonnie and Janet have never met, but they might have been separated at birth – not identical twin sisters, but sisters for sure. Bonnie is the precise, decorative sister. Janet is the bring-'em-on and pile-'em-high sister. If you love cookbooks or hunger for that iconic volume which your mother always used, these two shops can sate your appetite – perfect blends of history, nostalgia, and contemporary foodaphilia.
Bonnie played a significant role in Nach Waxman's move into out-of-print cookbooks at his renowned Lexington Avenue Kitchen Arts and Letters bookstore. (Have you ever made his unforgettable brisket and latkes recipes from the Rosso/Lukins bible, "The New Basics"?) Her shop is on the parlor floor of a brownstone and mixes colorful vintage kitchenware with the books. Every inch of her small, bright space is filled with something old and charming – crockery, posters, utensils, linens.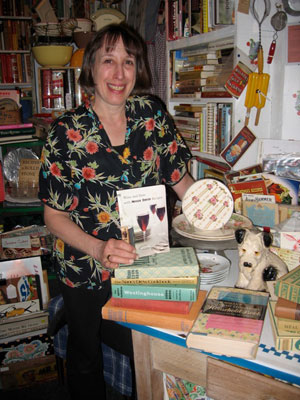 Bonnie attributes her passion for cookbooks to her childhood fascination with two of her mother's – Mrs. Simon Kander's "Settlement Cookbook" (my childhood touchstone as well) and the pamphlet "Butternut Bread's Interesting Collection of Good Ideas." After graduating from Parsons, she went into cookbook publishing. Though never really a cook, Bonnie loved to read about food, and this job synthesized her love of food and love of books, while giving her time to troll booksellers' row on 4th Avenue. There she steeped herself in books from the home economics movement of the 1880's to 1920's, especially at an antiquarian bookstore owned by the woman who, in 1972, revised and expanded the famous 1929 Waldo Lincoln "Bibliography of American Cookery Books, 1742-1860". Consequently, along with Julia, James, Marcella, Maida, Mario, MFK, Craig, Pierre, Alice and R. Crumb, her shop also has everything from the "Ladies Annual Register and Housewife's Memorandum Book for 1838" by Mrs. Gillman (yup) to "Some Favorite Southern Recipes of the Duchess of Windsor" (1942) and a copy of Madame Romaine de Lyon's "The Art of Cooking Omelettes" (1903) inscribed to Van Johnson! Bonnie isn't sure what the first cookbook she ever bought was, but if she were stranded on a desert island, the one cookbook she'd want with her is "The Country Kitchen" by Della T. Lutes. And, historian that she is, Bonnie found me the late Gino Cofacci's mocha dacquoise cake recipe, which I'd somehow managed to lose during the years.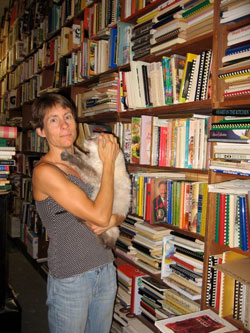 Janet stumbled into her specialty. She was working in the used-book business when her boss bought a huge book collection at auction and didn't care about the cookbooks. Janet bought them from him, and the seed was sown. Her shop is four times the size of Bonnie's, with books to the rafters and three narrow aisles full of boxes, bicycles (Janet's a tri-athlete), a vacuum cleaner, two cats and a dog. The collection is extensive - a 15-minute pit stop won't be enough time, and know that your neck will hurt when you leave from craning to see the upper shelves.
One shelf that made me laugh has a pile of 14 spiral-bound cookbooks, only three of which had names on their plastic binders: Mormon Cookery, Fiddler in the Kitchen, and Kabobs on the Grill – how ecumenical! The oldest book in the shop is the 1825 first American edition of "Mackenzie's 5000 Receipts". There's also an old, spinning Penguin Classics display case, filled with paperbacks from the 60's and 70's, like an old fave of mine, Michele Evans' "Recipes for Beautiful Soup". Janet has dozens of pink cards taped to the shelves, identifying categories that you won't find in either the library or Barnes and Noble: wartime cookbooks, cookbooks for men, foreign language cookbooks, health-oriented desserts (why bother?), and New Zealand cookery (who knew?).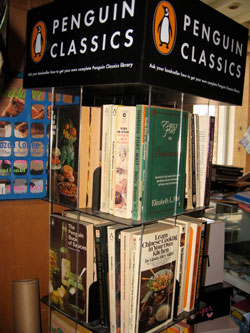 Janet's childhood memory book is Betty Crocker's Boys and Girls Cookbook, from which she painstakingly made a heart-shaped cake for Mother's Day, which her mother diplomatically pronounced "tasty". The first cookbook she ever bought for herself was "Laurel's Kitchen" (like many good hippies), and her desert island cookbook would be "The Greens" – a book I use to this day.
Although I'm more restrained in my cookbook purchases these days, like I am when it comes to chicken skin and cheesecake, visiting Bonnie and Janet gave me great pleasure and helped me decide that giving in to temptation once in a while is a damned good thing.
Bonnie Slotnick Cookbooks
163 West 10th St.
New York, NY 10014
(212) 989 8962
http://www.bonnieslotnickcookbooks.com
Cook Books by Janet Jarvits
1388 East Washington Blvd.
Pasadena, CA 91104
(626) 296-1638
http://www.cookbkjj.com/
Ilene Amy Berg (aka The Berger Queen) is a television producer, antiques hunter, New York and London lover, and intrepid food adventuress.