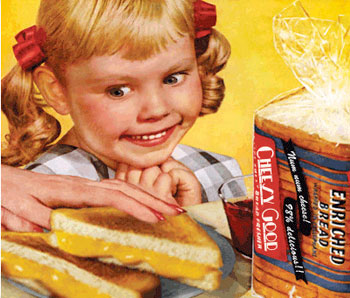 My favorite sandwich as a child was a Grilled Cheese. It still is today. I'm continually amazed at how something so basic – bread and cheese – becomes something so sublime. I think I could eat one everyday and never get tired of it. Especially considering all the bread and cheese choices out there. It boggles the mind and whets my appetite. Want something more substantial add a little ham to it. Now, it's a real meal and even more delightful.

Until two years ago, I never imagined this classic pairing could be improved upon. And certainly not with something so ordinary as an egg. Sometimes food takes you by surprise, though I find this happening less and less as I get older. I was wary of ordering my favorite sandwich, with a fried egg on top – a concoction that was called a Croque Madame – but I was trying to branch out and it was my birthday, so I figured what the hell.

This classic French sandwich, usually made with Gruyere and smoked ham, also includes a healthy dose of Mornay (cheese) sauce, so I figured if I didn't like the egg, I could just scrape that off and enjoy the rest. There's almost nothing cheese sauce can't fix. I'm generally a scrambled egg-type of gal, so the sight of the bright, yellow yolk oozing all over my bready, cheesy goodness gave me a moment's pause, but once I dove in my palate was changed forever. The egg took the experience to a whole other level I didn't think possible – it actually improved the best sandwich in the world.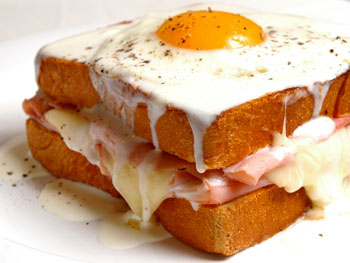 From that dinner forward, whenever I saw a Croque Madame on a menu, I just had to indulge. Sure, it's not the healthiest of meals on the planet – more like a cholesterol-fueled, fat bomb – but it's also not the most popular, leaving me craving this magical treat more than I anticipated. What began as a supper surprise became my own personal treasure hunt to find sandwich satisfaction. Unfortunately, it doesn't come cheap. For whatever reason, this seemingly simple sandwich will cost you between $12-$18 to eat out. So, one weekend, I decided to see if I could replicate it in my own kitchen.

I hunted the Internet and came upon a recipe at Epicurious.com that appeared to be exactly what I was looking for. Making a Croque Madame isn't a simple operation – since you have to make the Mornay/cheese sauce, then construct them, grill them, broil them to melt the cheese sauce and fry the eggs – but let me tell you something...it was soooooo worth the effort. Mine was better than a few I found while out and about in LA, probably because I ladled on the sauce. Dryness being my main issue with some of the professionally cooked versions. It's not easy to get the proportions of the ingredients right, as well as making sure the bread has the proper texture – crisp and cheesy on the outside, soft and warm on the inside. It's a delicate dance, my friends, and too crunchy/hard can ruin the whole experience.

While I have yet to hit all the spots in LA that serve this "delicacy", I have eaten my fair share. You can find out what I thought of all of them below. I wish more restaurants would put it on their brunch menus as it's the perfect combination of ingredients when you can't decide which meal you're more in the mood for. With the Croque Madame, you get both lunch and breakfast, thanks to the egg. I'd like to tell you how it got its' name (it first surfaced on a menu in France around 1960), but that exact story is lost to history. Thankfully, the recipe is still around for us to enjoy and I now know why. Treat yourself. You won't be sorry.

TIE FOR FIRST PLACE:

Church and State, Downtown LA - (Pic on left) - Website
Petrossian Cafe,West Hollywood - (Pic on right) - $16 - Website

It's hard to choose between these two versions because they both delivered perfectly crafted sandwiches. One came with piping-hot, crisp fries that made the whole meal super decadent; the other so incredibly large it could feed a family of four. (Yes, I ate the whole thing myself.) Thank God for the salad, which helped refresh the palate in between each scrumptious morsel. In this case, size was equal to substance. Unfortunately, Church and State no longer carries this on their current menu. Lucky for you, Petrossian still does. Go hungry. Very, very hungry.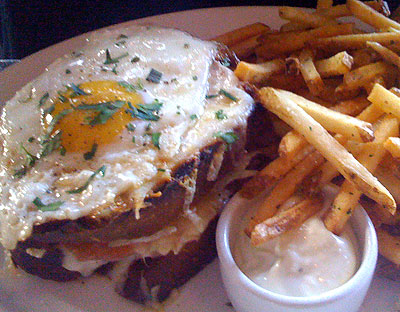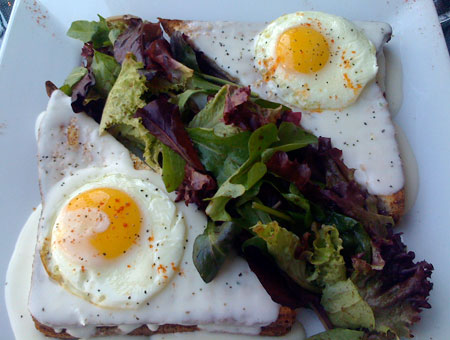 3) Palate Food + Wine, Glendale - $6 - (pic on left) - Website
The first one still holds a special place in my heart. Was part of their Cirque du Fromage special menu. Hopefully it will make a reappearance when this weekly series begins again.

4) The Mercantile LA, Hollywood - $13 - (pic on right) - Website
A nice little wine bar and gourmet shop that also has great nibbles and sandwiches. They only serve the eggless Croque Monsieur on the lunch menu, but you can get the Madame at dinner or brunch. Not as elegant as the top three, but hit all the right notes with a lovely crunch to ooze ratio.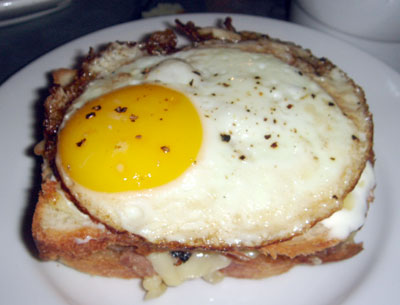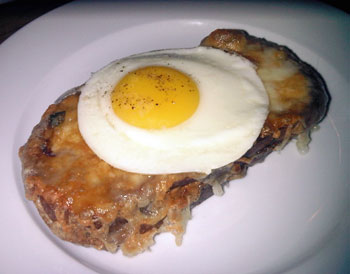 5) My Home Version - (Pic on left)
What can I say? I know how to make a sandwich. In fact, I only eat sandwiches I make because I have a strict need to have every bite contain each item in the sandwich with nothing sticking out. Who want to get just bread and lettuce in a bite? It's my only OCD food. I may have over-sauced our version, but we love sauce, so c'est la vie. The recipe I used can be found HERE. Be careful with the mustard. I think it was too much, but my husband LOVED it as is.

6) Comme Ca, West Hollywood - $12 - (Pic on right) - Website
While I loved the presentation and the inside ingredients were delicious the outside was just too crisp, more like toasted bread than grilled. It made the edges of the sandwich too dry and hard even with the runny egg. It was the perfect size, however, so I didn't feel too full after eating the whole thing.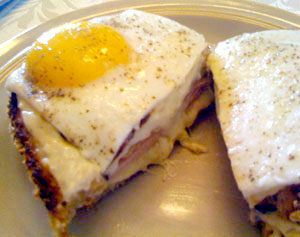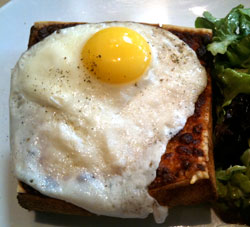 7) Little Next Door, Mid City - $13 - (Pic on left) - Website
Since this is a well-regarded French cafe, I had high hopes for the sandwich here. It may have contained all the right elements, but the outside was too crisp and dry to be truly enjoyed. It was also hard to find the ingredients on the inside. One slice of ham and cheese does not a great sandwich make. Was not the sandwich I was looking for.

8) The Little Frenchie Food Truck - $5 - (Pic on right) - Website
I know it seems a bit desperate to resort to a food truck for a sandwich like this, but hey, they were close by and it had been awhile. I wasn't expecting much, considering the price, but was actually pleasantly surprised. It was better than I thought for $5. This isn't the place to start if you want to experience the true nature of this sandwich, but if they're in your neighborhood it's worth a try.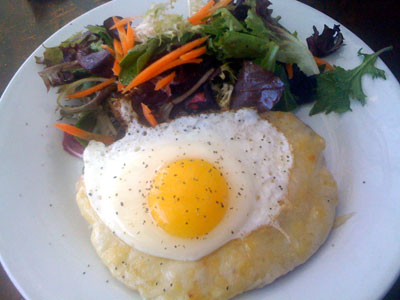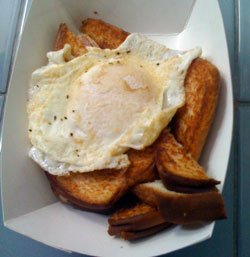 The mission is still ongoing. There has to be others I've missed, besides Bouchon. I'll get there. Though have to wonder if it'll be worth its $17 price tag. I understand Hatfield's also has a version, but I'm sorry yellowtail sashimi is not what I'm looking for in my Madame. Who makes the best traditional version in the city? I need to know.
Lisa Dinsmore is a writer, web programmer, movie and wine lover. She currently runs two review websites to share her passions: www.crazy4cinema.com and www.dailywinedispatch.com. She is also the Managing Editor of One for the Table.