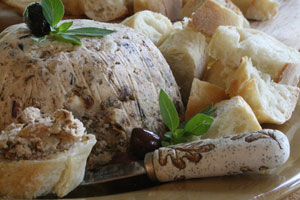 I've discovered there's no place in the middle when it comes to olives. People love olives or they adamantly, for sure, no doubt about it, can not stand them. I've never heard anyone say, "Olives? Oh, I can take them or leave them."
I'm one who loves them. As long as they are not from a can. Don't call me an olive snob, though.
I grew up on black olives from a can. My dad and I could eat a can together at one sitting. We never had to share. My mom and my brother were from the "can not stand them" camp. Now, though, I prefer them from a jar or from a bin in the deli case at the grocery store. Any color olives, with pits or without, stuffed with almonds or garlic or feta or jalapenos – I'm there.
I created My Big Feta Greek Spreading for a cooking class I taught in 2003, shortly after I'd seen the movie, "My Big Fat Greek Wedding." The spread, with a cream cheese base, becomes a little bit Greek with the addition of feta cheese, sun-dried tomatoes, olives and pine nuts. The flavors develop when the spread is made the day before you plan to serve it. This time, I used Aromatic Roasted Olives, pitted and chopped to mix into the cheese spread.
I serve My Big Fat Greek Spreading with big chunks of chewy bread. Pita chips are also good with the spread. And for lunch, spread it on a toasted bagel and eat it along with a salad of fresh greens.
My Big Feta Greek Spread is full of big fat flavor. You may even be able to sneak it by one of those no doubt about it, can't stand olives people.
My Big Feta Greek Spread
8 ounces cream cheese, softened
4 ounces feta cheese
1/2 cup drained and chopped oil-cured sun-dried tomatoes (Pat tomatoes with paper towel to remove excess oil)
1/4 cup pitted and chopped olives
1/2 cup lightly toasted pine nuts
2 tablespoons finely chopped onion
1 tablespoon chopped fresh basil or 1 teaspoon dried basil leaves
1 teaspoon chopped fresh thyme leaves or 1/4 teaspoon dried thyme leaves
2 chubby cloves of garlic, minced
1/2 teaspoon salt
In a mixing bowl, use an electric mixer to blend cream cheese and feta. Add remaining ingredients and mix well with wooden spoon. Serve with chunks of chewy bread with crunchy crust.
Sue Doeden is a popular cooking instructor, food writer and integrative nutrition health coach. She is the host of Good Food, Good Life 365 on Lakeland Public Television. Her own hives full of hardworking bees and her love of honey led to the creation of her recently published cookbook, Homemade with Honey.