Matcha Dusted Pancakes
by Alexis Siemons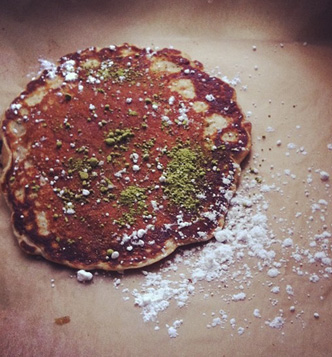 The bright, vegetal flavor of matcha is reminiscent of the satisfyingly rich, bitter notes of pure dark chocolate. Both of which are an acquired taste. Over time, my taste buds began to crave the grassy notes of the finley milled Japanese green tea powder.
Considering that it's an expensive treat, I've kept it out of my cookies, cake and bread batters (which often require a bit too much then I'd like to spare) and have reserved it for a vanilla rose marshmallow latte, salad dressing & orange blossom tapioca.
As the snow fell like confectioners sugar from the sky yesterday (dusting the ground with glittering flakes), I was inspired to make my way to the stove and whip up a batch of whole wheat pancakes for lunch. I quickly realized that I was out of syrup and thought that a touch of powdered sugar would do the trick.
And then the jar of matcha whispered my name. Just like that I found myself sprinkling delicate sugar from one hand and matcha with the other onto the warm pancake (some powder melting into the pancake to deeply flavor the whole wheat and other bits lingering on top for color).
The bright, grassy notes of matcha melded with the sweetness of sugar and the hearty and slightly buttery richness of the whole wheat pancake. While I considered whisking up a matcha latte to pair with the breakfast-for-lunch treat, I decided that I effortlessly had my afternoon tea in just one bite. And if you're new tea-infused nibbles with the steeped leaf, then this simple sprinkle technique is the way to start. If your heart doesn't beat to a matcha tune, consider using a spice grinder or mortar and pestle to grind a fragrant earl grey and dust your pancakes with the bold bergamot flavors. Is it time for breakfast again?
Alexis Siemons is a freelance writer and tea consultant living in Philadelphia. As a tea enthusiast, she writes about her steeped adventures with tea on her website <teaspoons & petals, and teaches a series of culinary tea classes. Her recipes and stories have been published in Anthology Magazine, Grid Magazine, Philadelphia Magazine, Kinfolk Magazine, Remedy Quarterly and Design*Sponge.
New York


by

Michael Tucker





"Have you ever been to Eisenberg's?" This question from my daughter, Alison. "Shannon and I went after the gym the other day," she says. "Best Reuben I've had in a long time. You should check...

Read more...

Italy


by

Libby Segal





When I first heard the phrase "ZaZa," I thought it might have referred to some strange dance move created decades ago, possibly performed by the Tracy Turnblad character, played by Ricki Lake, in...

Read more...

New York


by

Michael Tucker





We went to the Lower East Side the other night to see what the young people are up to. Our son, Max, was playing a gig at the Bowery Ballroom with a great band called dinowalrus. They totally...

Read more...

Europe


by

James Moore





I was recently in Spain for Madrid Fusion, one of Spain's biggest gastro-festivals that included a "who's who" of culinary heavyweights from Spain and elsewhere, including Ferran Adrià (who...

Read more...