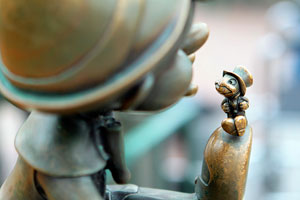 Does Jiminy Cricket sit on your shoulder? He sits on mine – always has. The first time I saw Pinocchio; he jumped right off the screen and onto my shoulder and has been there ever since. If he were simply my conscience, I would consider that a good thing, but he is not my conscience; he is my worst critic!
"You think that photograph is good? Are you an idiot with absolutely no taste? Print that and the world will laugh at you."
"You prefer A Place in the Sun to Citizen Kane? Are you friggin' out of your gourd? Tell anyone that and the world will laugh at you."
"You are wearing what? That? Put that on and the world with laugh at you!"
It never stops. It is most embarrassing, however, when I fix dinner for company. I will get a compliment and before I can smile and say, "Thank you" I blurt out, "I put too much salt in the sauce, I over-browned the meat before I stewed it …" TMI provided by Jiminy.
Occasionally, I get the better of him. Especially when it comes to junk food.  I can make grilled peanut butter and jelly sandwiches that literally melt in your mouth and not a peep from him. Ditto pulled pork with North Carolina style BBQ sauce. Nary a "Make that for them and the world will laugh at you." So finally, I have his number!
The following recipes are meant to seduce and deafen Jiminy Cricket.
Grilled Peanut Butter and Jelly Sandwiches
Extra thin sliced white bread with the crust left on. For a more sophisticated taste use sourdough bread. (Hah! Even without Jiminy Cricket I know you are laughing at me).
Red Wing Peanut Butter (there is no better peanut butter on this planet)
Jelly
Melted Butter
Pulled Pork on White Bread with Eastern North Carolina Style BBQ Sauce
OK, this will never be as good as pigging out in one of the many great BBQ joints in Lexington, North Carolina
Eastern North Carolina BBQ Sauce
1 cup white vinegar
1 cup cider vinegar
1 tablespoon brown sugar
1 tablespoon cayenne pepper
1 tablespoon hot pepper sauce (e.g. Tabasco™), or to taste
1 teaspoon salt
1 teaspoon ground black pepper
Combine all the ingredients in a jar or bottle with a tight-fitting lid. Refrigerate for 1 to 2 days before using so that the flavors will blend. Shake occasionally. Will keep for up to 2 months in the refrigerator.
This sauce is very distinctive. If it is not to your taste, add some catsup or simply provide your favorite sauce. It will be yummy no matter what sauce you use.
North Carolina Styled Pulled Pork
3 tablespoons paprika
2 teaspoons light brown sugar
1/2 teaspoon celery salt
1/2 teaspoon garlic powder
1/2 teaspoon dry mustard
1/2 teaspoon freshly ground black pepper
1/2 teaspoon onion powder
1/4 teaspoon course salt
A pinch cayenne pepper
1 5-7 pound pork roast preferably shoulder or butt
2 pounds hickory wood chips, soaked
In a small bowl, mix paprika, light brown sugar, celery salt, dry mustard, ground black pepper, onion powder, garlic powder cayenne pepper and salt. Rub the mixture onto the roast on all sides. Wrap in plastic wrap, and refrigerate overnight.
Prepare grill for indirect heat.
Sprinkle a handful of soaked wood over coals, Place your roast on the grate over a drip pan. Cover grill, and cook pork at least 6 hours, or until the internal temperature reaches a 170 degrees F. Check hourly, adding fresh coals and hickory chips as necessary to maintain heat and smoke.(If this is too much effort it can be slow roasted in a pre-heated oven at 300 degrees F. for about 6 hours or until the meat begins to fall apart, adding some of the soaked hickory chips to the bottom of the pan or rubbing a little liquid hickory smoke onto the roast with the spice mixture)
Remove pork from heat and place on a cutting board. Allow the meat to cool approximately 15 minutes, then shred ("pulling") into bite-sized pieces using two forks. Transfer to a serving bowl and add 1/2 the sauce (which has been heated) and mix well to coat.
Serve on sliced white bread or hamburger buns. Garnish with pickle spears.
Texas Style Brown Sugar Bacon
1 lb thickly sliced hickory smoked bacon
1/3-cup light brown sugar
Preheat oven to 375 degrees F.
In a baking pan lined with parchment paper, carefully line up the bacon – slice by slice - overlapping only if necessary. Sprinkle the brown sugar evenly over the bacon and place the pan on the top rack of the oven. Bake for 35-40 minutes or until firm. Serve immediately.
Jalapeno Cheddar Cheese Pancakes
2 cups grated sharp cheddar cheese
1/2 cup sour cream or yogurt
1/4 cup all-purpose flour
Coarsely minced Jalapenos to taste
2 scallions, white and pale-green parts only, thinly sliced
Sea salt and freshly ground black pepper
3 large eggs, separated
Stir together cheese, sour cream, minced Jalapeno pepper, scallions (reserving some for garnish), flour, salt, pepper, and egg yolks in a large bowl. Set this aside.
In another large bowl, beat egg whites until stiff peaks form. Fold beaten egg whites into reserved batter. Do not mix or stir vigorously, but do mix thoroughly. Prepare as you would regular pancakes.
Garnish with sour cream and scallions and/or broken bits of Brown Sugar Bacon.
Nancy Ellison, award winning photojournalist and celebrity portraitist, has authored fourteen books of photographs, including "Romeo and Juliet: The Love Story in Dance" and "Starlet". Her newest book, "Wagner's Eternal Ring" will be published this September by Rizzoli.