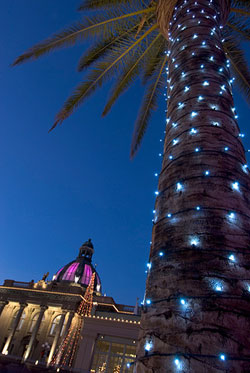 So I'm playing tourist, mooching off my galpal Corinne's retired Redwood City, CA. dream life. Boy, has she ever set herself up well in her hometown, recently redeveloped into a vacation paradise ideal for a freeloader like me. Not only is her late parents' house, in which she grew up, replete with a view of verdant hillsides and well tended homes, and a large garden full of a festival of fruits in rotating seasons of ripeness, she's got the sensuous cuddle cat and the darling ditzy dog, and the friendly, easy kind of community about which we all fantasize when things start to sloooow down.
Redwood City has Zydeco dancing for free with a great Cajun group in the renovated town square on Friday nights all summer, in a great contrast of stately buildings and Southern hoedown hick apparel. It features screenings and dance classes at the local community center every week all year long. People actually picnic in its parks. It's got great walking areas, fine dining, funky shops with great one-of a-kind finds, a train station, and, holy shades of civilization, all the familiar franchises plus a Whole Foods with slightly different fare from local farms than the Los Angeles local branch.
They sell ostrich eggs.
They're organic. They're gigantic. I thought they were pop art sculptures cast in stippled plaster at first. I stalked them in amazement for days, staring, then stroking, poking, lifting, inquiring, and remarking to everyone on their $29.99 price per three pound - oeuf! But, finally I succumbed. Having developed a fondness for duck eggs organically grown and served by another girlfriend of mine who married so well that my freeloading was four star on their organic farm. Those duck eggs, fresh from the duck's...shall we say "nest," were fantastic in frittatas, extra yellow in hue, well flavored with humanely plucked fresh herbs, onions and cholesterol. Adding another fowl's giant egg to my eggventures – compared to quail eggs I felt like Gullliver, compared to this one I felt dwarfed – had to be worth the price.
Drooling with delight in anticipation of the ostrich egg outing to come, and the kudos I might get from Corinne and company for conquering a new food frontier, I chopped shallots and organic parsley into a giant griddle frying fresh butter and commenced browning. The kitchen smelled great. It was time to crack the egg in a manner that kept the anticipated yolk, the largest single cell known to science, intact, whilst perhaps preserving the shell as an Easter ornament for her spring display. It would not go easily. A hammer was deployed. She held, I cracked, gently, then harder, over a huge bowl. The first hole was too small for anything to exit, and we had to strain out splinters of rock hard shell. So I had at it with the hammer harder and broke a plate-thick square inch out of the hulk. The egg white began to drip out , the pale yellow yolk losing its integrity in clumps as it fell.
Using an old fashioned egg beater to mix the big bowlful, equivalent to two dozen chicken eggs, I dashed in some salt and a tablespoon of olive oil. Just like ostrich burgers, ostrich eggs are low fat fare, and a bit of fat helps it hold together. I poured nine eggs worth in, and began to fry, lifting the edges and running the liquid egg off the sides often. It took about fifteen minutes to brown it, halve it, flip it and serve it.
It tasted just like chicken eggs! But we had such fun in the consuming and picturing Big Bird letting it out of her body, and figuring out what to do with the rest of it, that the event outweighed the lack of novelty of the taste. Corinne made pancake batter with it the next day, tried to get new neighbors to come over and help us eat the rest. At these prices, you don't want to waste a drop. Yet, I splurged and bought another, as a house warming gift for friends, and yet a third as a present for a very pregnant young mom-to-be. A giant egg is inherently metaphoric, suggesting simplicities, perfections, beginnings, possibilities, art, a challenge for iron chefs, and a brunch for at least ten.