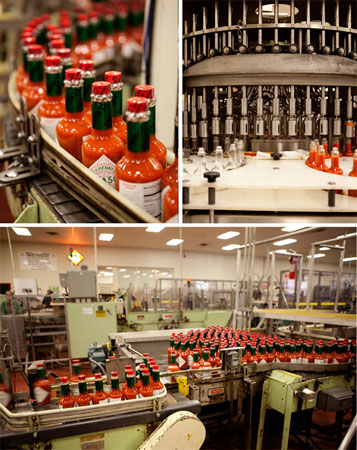 Oh, Tabasco, how much do I love thee?
The narrow bottle, wedged next to the napkins and salt and pepper, has always been a part of my earliest food memories and proceeds almost anything else on the table. It is a sauced etched in my mind, its hot and tangy flavor surely a part of my DNA by now. I suspect it's this way for millions of people, too. I've just never been able to get enough of the stuff.
I got to spend a few days in Avery Island, Louisiana, home to the McIlhenny Company that makes the Tabasco hot sauce. It's been made here since its invention in 1868, its recipe unchanged for over 142 years. And if something is good, why change it? To make Tabasco sauce, you only need a few things: peppers, salt, vinegar and time. But Tabasco does indeed have a secret ingredient that makes it so extremely special: the people that have made the sauce for generations.
(and no, there are no people IN the sauce, please don't get all Sweeny Hot Sauce Todd on me, please)
To visit Avery Island and the McIlhenny Company is like walking into a textbook on regional Louisiana history, followed by a textbook on American history. It's a family-owned company that was founded by Edmund McIlhenny and is still run by the family today. In fact, many of the employees have been with the company for generations. And Avery Island itself is quite special. Located in Iberia Parish, Avery Island is located on top of a salt dome and has been involved in the salt trade even longer than the production of Tabasco. These two things go hand in hand, we'll get to that in a few.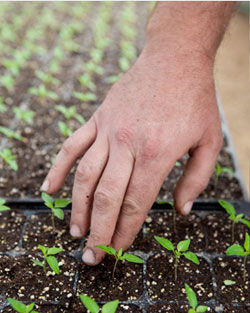 The history of this place and the company itself is so rich, so deep, I couldn't even scratch the surface in a blog post. If you have a chance to visit I encourage you to do so and while you're at it, take a look at this book. I've just finished reading it and my head is spinning.
The making of Tabasco is a very simple process but that doesn't mean it's easy. Capsicum frutescens are grown on Avery Island, tended and cared for in greenhouses scattered around the island. Because the demand for Tabasco is so big, seeds are then taken from the plants and sent all over the world to be grown into pepper plants. This allows for year-long growing in places like Central and South America because these plants need ample heat and sunlight to grow. Once the plants produce the peppers needed for Tabasco, they're sent back to Louisiana where the mixing and aging process begins. Here's where the magic happens!
The peppers are mixed with a tiny bit of Avery Island's own salt into a mixture called mash. This mash is placed in white oak barrels, covered with salt (it acts as a natural barrier) and then allowed to ferment for up to three years. Under the direction of Master Cooper Hamilton Polk, a few barrels were opened up for us to taste and see just how much the mash changes over the course of time.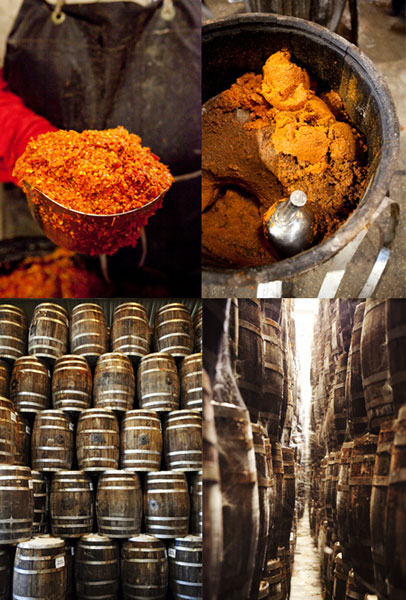 He's been with the McIlhenny Company for over 40 years and has even been the face of several advertisements. He graciously explain how oak barrels, once used for whiskey and bourbon, are retrofitted and reinforced to handle the acidic and spicy conditions of mash fermentation.
I was lucky enough to taste the pepper mash and folks, let me tell you something: IT IS HOT. It's much hotter than what's in the bottle, but that's only because it hasn't had time to mellow with age nor be balanced with vinegar. It's freaking hot. I MEAN HOT.
Under close supervision and plenty of time, the mash is then taken out of the oak barrels and mixed with vinegar. It's stirred constantly for several weeks and then strained of its seeds and skins and then bottled. This is the bright red sauce that you and I know and love but did you know it is sold in more than 160 countries and that the factory produces over 720,000 bottles a day? That's a lot of peppers. I'm glad to know they are keeping up with my demand for the stuff.
Everything is done on Avery Island, including the bottling. Yes, I sang the theme to Laverne & Shirley but luckily the whizzing of equipment prevented me from making too much of a fool of myself. Schlemiel, schlimazel, hassenpheffer incorporated, I am so gonna do it.
Oh, did I mention lunch? Because many workers also live on Avery Island there's a Tabasco Deli where we stopped for lunch. Can you imagine all the Tabasco condiments you could ever want, in every variety, on the tables for you to use? I had to sprinkle a little bit on my Boudin Po'Boy, of course. I was in heaven.
Matt Armendariz is a writer and photographer who lives in Los Angeles and chronicles his passion for food and travel on his blog MattBites. His latest book is "On a Stick!"