Miss Macaron
by Alexis Siemons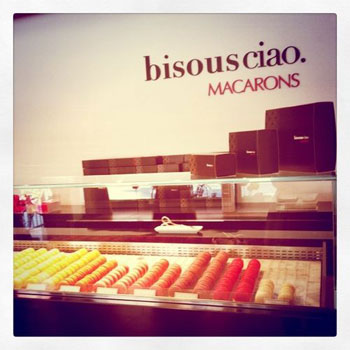 I've never been the type to have a candy drawer or crave chocolate. Growing up, I would rather have a savory snack than give myself a sugar rush. There was one sweet spoonful that sent me swooning, ice cream. But as my love for tea grew, the chilled scoop wasn't always the best companion to a hot cup.
A few months ago I stumbled on a very special petite treat, a macaron. It was love at first delicate bite. Whenever I'm craving a nibble, my Miss Macaron Mode guides me to the nearest bakery for a sweet fix and a steeped sip.
Although during a recent trip to NYC, my macaron moment was carefully planned as I followed my GPS to bisous ciao.
As soon as I stepped into the sweet shop, the glass case of jeweled sweets seemed to lure me over with its beautiful rainbow glow. Telling myself I would be back again soon, I restrained and ordered the two flavors that made my heart sing, Lavender & Honey and Jasmine & Green Tea. Each fragrant bite sent me on a floral journey as the petal parade marched about on my taste buds. Delicate and enchanting, I savored the macarons until I was only left with an empty wrapper and a few photos.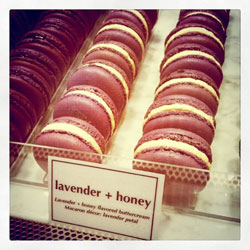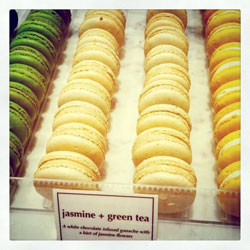 Leaving mango & coconut and salted caramel for the next visit, I skipped out of the sweet shop in search of a refreshing sip of tea. Many thanks to biscous ciao for letting my senses slip into miss macaron mode, even for a moment.
bisous ciao – 101 Stanton Street, New York City, 10002 – Closed Monday
Alexis Siemons is a freelance writer and tea consultant living in Philadelphia. As a tea enthusiast, she writes about her steeped adventures with tea on her website <teaspoons & petals, and teaches a series of culinary tea classes. Her recipes and stories have been published in Anthology Magazine, Grid Magazine, Philadelphia Magazine, Kinfolk Magazine, Remedy Quarterly and Design*Sponge.
Florida


by

Cathy Pollak





Whenever I find myself in a new town, I always look up a Triple-D (Diners, Drive-Ins & Dives) restaurant. Why not? The places always have rave reviews and you know you are going to get a BIG,...

Read more...

Los Angeles


by

Carolan Nathan





Shakespeare once wrote, "a place for all reasons and all seasons" and those words are a great intro to Coupa Café, a lively restaurant and wine bar situated on North Canon Drive in Beverly Hills....

Read more...

Michigan


by

Ann Nichols





The second of my eating out experiences this week took me to Ukai, a Japanese restaurant in Okemos, Michigan. Chosen by my 11-year-old nephew as the site of his birthday dinner, Ukai occupies a...

Read more...

New York


by

Alison Wonderland Tucker





"I just need to get out of the apartment." I whined to my friend Blaine on the phone.

"It's raining." He replied.

I looked out the window. It was just drizzling.

"I don't care. I need to do...

Read more...