Kyotofu Dessert Bar
by Alexis Siemons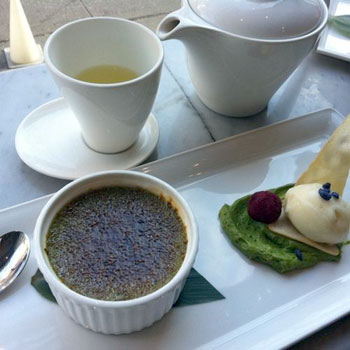 OK fine. I'll admit it. I'm the person who studies the menu online before going out to eat. I devour every edible word and let the taste bud anticipation work its magic.
The moment I knew I would be meeting up with a friend at Kyotofu, a Japanese dessert bar in NYC, I quickly jumped over to their site to take a peek at their online menu of tea infused sweets. Within seconds the matcha green tea crème brûlée had my heart skipping a beat.
Although when the plate met the table, the ginger/pear sorbet seemed to steal the show. Let me just say that they were a harmonious pair. As I broke through the delicate, caramelized top layer, a vibrantly bright green mini pot of matcha creme stood before me.
The richness of the matcha creamy treat was balanced by the airy, refreshing bites of ginger, pear. Matcha crème brûlée was a down comforter on a chilly winter night, while the ginger/pear sorbet was linen on a summer afternoon.
Oh, and the tea that you see lingering at the top of the image was a ginger tangerine sencha. I wanted to stay within the realm of Japanese green teas after the matcha bite and ride the ginger wavelength from the sorbet.
Kyotofu – 705 ninth avenue (between 48th and 49th) New York, NY 10019 - 212-974-6012
Alexis Siemons is a freelance writer and tea consultant living in Philadelphia. As a tea enthusiast, she writes about her steeped adventures with tea on her website <teaspoons & petals, and teaches a series of culinary tea classes. Her recipes and stories have been published in Anthology Magazine, Grid Magazine, Philadelphia Magazine, Kinfolk Magazine, Remedy Quarterly and Design*Sponge.
Maryland


by

Amy Ephron





We'd walked past it a couple of times, a simple storefront set back from the street with a small porch, a glimpse of tables inside, unassuming. The Key Lime Cafe. Full at lunch-time, we...

Read more...

Florida


by

Nancy Ellison





Our friend, Shiny Sheet Society Editor, Shannon Donnelly, can masticate on purple prose as well as any one I know: we are naught but a chew toy impaled on the incisors of the Cosmic Hellhound of...

Read more...

Los Angeles


by

Charles G. Thompson





A canelé is a specialty of the Bordeaux region of France. A small pastry with a soft custard center and a dark caramelized crust. They are eaten for breakfast, as a snack, and for dessert. Canelé...

Read more...

Southern States


by

Ann Nichols





The Waffle House is sort of the unofficial flower of the Southern Interstate exit. Driving North from the Gulf Coast on I-65 for the past two years, I have seen the yellow signs blossoming in...

Read more...