Kyotofu Dessert Bar
by Alexis Siemons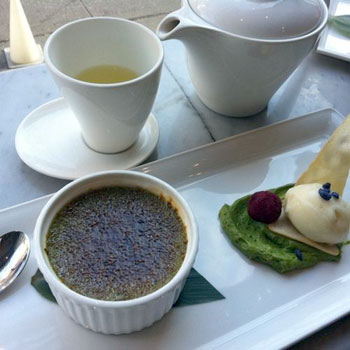 OK fine. I'll admit it. I'm the person who studies the menu online before going out to eat. I devour every edible word and let the taste bud anticipation work its magic.
The moment I knew I would be meeting up with a friend at Kyotofu, a Japanese dessert bar in NYC, I quickly jumped over to their site to take a peek at their online menu of tea infused sweets. Within seconds the matcha green tea crème brûlée had my heart skipping a beat.
Although when the plate met the table, the ginger/pear sorbet seemed to steal the show. Let me just say that they were a harmonious pair. As I broke through the delicate, caramelized top layer, a vibrantly bright green mini pot of matcha creme stood before me.
The richness of the matcha creamy treat was balanced by the airy, refreshing bites of ginger, pear. Matcha crème brûlée was a down comforter on a chilly winter night, while the ginger/pear sorbet was linen on a summer afternoon.
Oh, and the tea that you see lingering at the top of the image was a ginger tangerine sencha. I wanted to stay within the realm of Japanese green teas after the matcha bite and ride the ginger wavelength from the sorbet.
Kyotofu – 705 ninth avenue (between 48th and 49th) New York, NY 10019 - 212-974-6012
Alexis Siemons is a freelance writer and tea consultant living in Philadelphia. As a tea enthusiast, she writes about her steeped adventures with tea on her website <teaspoons & petals, and teaches a series of culinary tea classes. Her recipes and stories have been published in Anthology Magazine, Grid Magazine, Philadelphia Magazine, Kinfolk Magazine, Remedy Quarterly and Design*Sponge.
Los Angeles


by

Charles G. Thompson





Food in New York. I used to know it so well. When I lived there during the '80s and '90s, and worked in the food business I knew every place there was to know, and I went to most all of them. ...

Read more...

New York


by

Michael Tucker





I had an experience the other night that was right out of Larry David's universe or Seinfeld's. A classic. I'll try to describe it for you.

It was around 9:45 and I was at Danji, the wonderful...

Read more...

Texas


by

David Latt





Austin has a lot going on. Besides being the state capital, the city has amazing music venues with a great collection of bars and a dynamic food scene. Austin has it all. Upscale, fine dining...

Read more...

Los Angeles


by

David Latt





Huckleberry, Sweet Rose Creamery and Rustic Canyon touched a foodie sweet spot with locals in Santa Monica and West Los Angeles. Husband and wife co-owners, Josh Loeb and Zoe Nathan proved again...

Read more...