The Crack of Dawn
by Lisa Dinsmore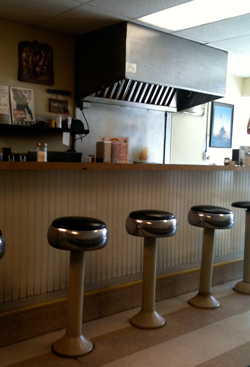 I've probably driven by this unassuming breakfast/lunch spot hundreds of times. It's in my hometown of South Hadley, Massachusetts, located in "The Flats", which was a section of town we drove through but rarely ever stopped in. Despite being a college town (it's home to Mount Holyoke), it isn't what you would call a food lover's mecca. Usually when we want breakfast we head to Duncan Donuts or Friendly's, both of which are more fast food than fine dining and honestly lacking in any charm. Though the DnD coffee is sorely addicting.

We noticed The Crack of Dawn because of their name - which we thought was clever and funny - and decided to stop in and support a local joint. My sister lives a few miles down the road and heard a lot of good things but had never been in. There's been a restaurant in this location for 40 years. (Who knew?) The original owners sold it 9 years ago to Frederick Wohlers, who's also the cook. He grew up in the area and has been working in the restaurant business since he was 13-years-old. There's nothing fancy about this place, just a long bar along one side and about 6 tables on the other, that look like they were purchased from a church hall. The vibe is no-frills, but feels comfortable and homey.

The menu is straight-forward and hearty, just what we were looking for since this meal was both breakfast and lunch for us. As much as I love eggs, I rarely order an omelet anymore. Something about the consistency that I just don't dig, but the special Spinach & Cheddar just jumped out at me. I was trying to be both indulgent and healthy at the same time. The Man decided to get the Bridge Street Breakfast: two eggs, two sausage, two slices of bacon, breakfast potatoes, toast and a short stack of pancakes. There was no way he was going to finish it all. My niece ordered the French Toast and my sister got two eggs over easy over the potatoes, peppers and onions. Coffee was included. None of the meals cost more than $9.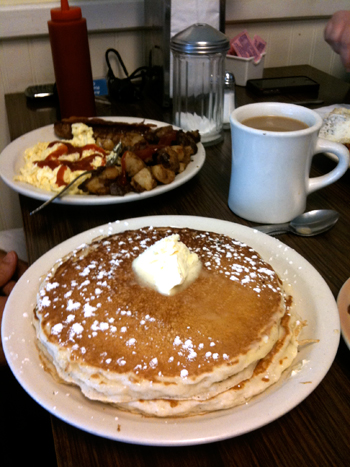 Man, did we get what we paid for. I can't tell you the last time I enjoyed an omelet so much. Just perfectly cooked with the right amount of egg, spinach and cheese in every bite. The potatoes were well-spiced and crisp-tender. The raisin toast came lightly browned and buttered. Why don't restaurants better toast anymore? I know people are watching their calories, but if the butter doesn't hit the toast when it's hot, it just doesn't melt correctly. It was a nice touch I totally forgot about until I took my first bite.

The Man didn't get anywhere near finishing his entire breakfast, so in an effort to not waste food, we all took one for the team and dove into the pancakes. I can't remember the last time I ate pancakes, but if they were all this light, flavorful and fluffy I would eat them everyday.
I like my breakfast savory, yet these were so good, even though I was more than full I almost ate a whole one myself. We initially forgot they were part of The Man's order and were not excited when they showed up, but I think it's safe to say they were our favorite part of the meal.

With just him and his waitress Sonny, this is clearly a family shop and one that depends heavily on the locals. We were treated warmly and had a great time talking to Fred who's very passionate about his food and quite a character to boot. I can only hope he's still around the next time we get to town. I will be ordering the pancakes.
The Crack of Dawn
20 Bridge Street
South Hadley, MA 01075-2842
(413) 533-8133
Lisa Dinsmore is a writer, web programmer, movie and wine lover. She currently runs two review websites to share her passions: www.crazy4cinema.com and www.dailywinedispatch.com. She is also the Managing Editor of One for the Table.
Los Angeles


by

Laraine Newman





So, I was like, driveen in the valley 'n' stuff? And I like drove past a shop that said Artisan Cheese Gallery, 'n' stuff? And I was like "wait, did I just, um, this is like the valley, ok? And...

Read more...

Los Angeles


by

David Latt





People who don't live in Southern California forget that in the winter, the temperatures can drop into the 40s and even the 30s at night. That's mild compared with the weather experienced by our...

Read more...

Los Angeles


by

Pamela Felcher





As I have mentioned, I am a teacher in the LAUSD and this year the budget cuts cost me dearly. I lost the auxiliary class I have taught for the last nine years, and though this class added the...

Read more...

Washington, DC


by

Joseph Erdos





Art & Soul, located just inside the Liaison Capitol Hill Hotel in Washington, DC, is Chef Art Smith's first restaurant in DC. Chef Smith, better known as Oprah Winfrey's former personal chef,...

Read more...