Atkins Farms Apple Cider Donuts
by Lisa Dinsmore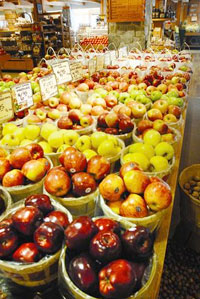 Living in Los Angeles, we know it's Fall by looking at our calendars not by the weather. October is usually one of our hottest months with no colorful, falling leaves, frost or crisp, cool days to be found. While I don't miss Winter, after two decades of living in the California sun, I still desperately yearn for the sights and smells of Autumn. Since traveling is rarely an option, I have begun to enjoy the season by living vicariously through pictures and blogs I find on the Internet. The current crop is all about apples. The visions of pies, tarts and cakes, as well as piles of this fresh fall fruit have left me craving one of my childhood's sweetest and simplest joys: the Atkins Farms Cider Donut.

My grandmother was obsessed with them and subsequently, so were we. It was her way of treating us, without breaking her bank. (They cost a quarter a piece then, now still a steal for 50 cents.) Once harvest season began, we'd head out to Atkins to indulge in their – now famous – baked goods...and fresh-pressed apple cider. Heated to take the chill off the morning. They bake the donuts fresh every day, infusing them with the cider and liberally dusting them with a mixture of cinnamon and sugar. The recipe hasn't changed in over 35 years with good reason. In 2008, they were rated by Saveur Magazine as one of the 12 best donuts in the country. Something I – and most of Western Massachusetts – have known since 1972. Well, 1976 for me.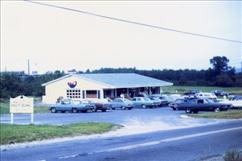 Atkins can't have been 20 minutes from Gram's house, but it always seemed like such an adventure, finding our way to this oasis in the middle of nowhere because of the orchards and farmland surrounding it. (It's located in Amherst, which is hardly a backwater, but I was 8 so what did I know.) These trips were special because they didn't happen very often and were also parent-free. We could eat as many donuts as our stomachs could tolerate – usually two – and savored (without guilt), not only their sweet, cinnamony goodness, but the time we shared together.

There's no doubt we brought back a bushel of apples as well, but I don't remember ever eating them. Who wants to eat plain old fruit when they can be turned into so much more? Following in his mother's footsteps (that would be my other grandmother), my father became and still is a great apple pie maker. I'm sure one of his creations was the final destination for our bounty, but for me nothing could compare to those donuts. We weren't denied sweets – in fact half of my diet consisted of them – so I can't explain the allure of this particular treat. It was just delicious. Period. And straight out of the over? Pure heaven.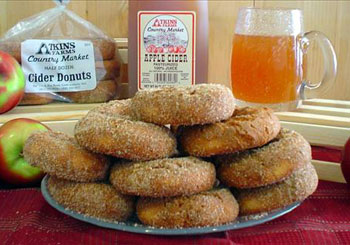 I rarely return to New England at harvest time, but when I do, I beg my sister to take me to Atkins. Or at the very least, to hook me up with some donuts and cider. You may think the "Cider" you buy in the grocery store is good, but you'd be wrong. Nothing store-bought tastes as good, or even remotely, like theirs. From the hearty texture to the sweet spiciness, it's like apple juice infused with the flavors of pie. I go through a gallon in a weekend. Not a drop is wasted or shared. Hey, she can get it whenever she wants.
We stopped recently on our yearly vactation East and I have to say everything was as delicious as I remembered...a rarity these days. Apparently, we aren't the only ones who find these treats irresistible, as the place was packed to the gills. No longer just a simple fruitstand, Atkins is now a high-end market with premium selections of local cheese, fresh produce, all-natural meat and seafood, gourmet snacks and a respectable wine selection. I guess it's good I live 3000 miles away or I'd be in there every day of the week.

Of course, with the power of the Internet, I can have the donuts I love delivered to my front door. Sometimes the web is a blessing and a curse. Am I going to be able to resist? Now that I've had them again and know how good they are, I wouldn't bet on it. Besides, I know my grandmother would approve. Traditions are traditions and it wouldn't be Fall without them.

Atkins Farms
1150 West St
Amherst, MA 01002
Lisa Dinsmore is a writer, web programmer, movie and wine lover. She currently runs two review websites to share her passions: www.crazy4cinema.com and www.dailywinedispatch.com. She is also the Managing Editor of One for the Table.
Southern California


by

Laraine Newman





Last Friday I took my daughter Hannah to tour Chapman College located only an hour south of Los Angeles, making it very convenient for her to bring me her laundry should she get in. Chapman is...

Read more...

Los Angeles


by

Maia Harari





I try really hard to be a health-conscious dancer. I go to the health food markets and buy spinach and avocados and turkey breast and trail mix. But the truth is, I am a carb monster. "C stands...

Read more...

New York


by

Nancy Ellison





How I love New York restaurants! I love my old standbys. I love the familiar friendly faces and food that I know exactly how it will taste. But, I also love going somewhere unexpected and...

Read more...

Los Angeles


by

Amy Ephron





Artisan cheese in the display case, turkey meatloaf you wish you could make at home, fresh lemonade that's just the right amount of sweet and sour, strawberry jam for sale on the shelf, Nicky...

Read more...