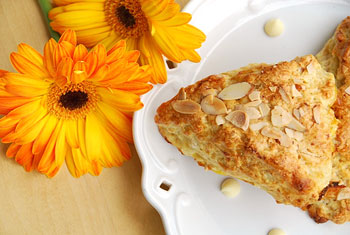 Makes 8 scones
3/4 cups heavy cream or half 'n half
1 teaspoon pure vanilla extract
1/4 teaspoon nutmeg
1 1/2 teaspoons ground ginger
2 cups all-purpose flour, plus 2 tablespoons
1/4 cup granulated sugar
2 teaspoons baking powder
1 teaspoon baking soda
1 teaspoon salt
1/2 cup (8 tablespoons cold unsalted butter)
1/4 cup dried apricots, thinly sliced
1/3 cup slivered almonds, plus 2 tablespoons for tops of scones
1/3 cup white chocolate chips
egg wash: 1 egg, lightly beaten OR 1 egg mixed with 1 teaspoon milk, lightly beaten

Preheat oven to 425 degrees. Place oven racks in top and bottom thirds of the oven. Line two large baking sheets with parchment paper.
In a small bowl, whisk cream, vanilla, nutmeg, and ginger; set aside.
In another bowl, mix dry ingredients: flour, sugar, baking powder, baking soda, and salt. Add chilled butter (in small pieces), and mix with a pastry blender or fork, until a coarse meal forms with tiny pea-sized butter pieces. Mix in apricots, almonds, and chips. Add the cream mixture to the flour mixture and, using a fork, mix until just combined. Do not over mix, or the dough will become leaden.
Using a floured surface, shape the dough into a disk, about 1/2-inch thick. With a wet knife (to make slicing easier) cut the dough into 8 triangular shaped scones. Place scones on parchment paper-lined baking sheets.
Brush egg wash over the tops of the scones and sprinkle with slivered almonds, pressing lightly with your fingers so they adhere.
Bake scones for 15 minutes, rotating pans mid-way through. Bake until puffed and golden; transfer to a rack to cool.
- Recipe courtesy of Susan Russo