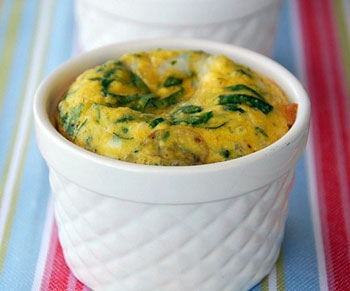 Mother's Day is in one week. Are you prepared? Skip the flowers and the gift certificates, and make Mom a beautiful breakfast that she won't forget.
I'm starting with an easy frittata inspired by my mom. Nutmeg has an affinity for spinach. I learned that from her.
OK, so she didn't say "affinity," but she loves them together.
So will you.
Spinach and Ricotta Frittata
Makes 8 servings
1 tablespoon unsalted butter
1 1/2 cups white mushrooms, thinly sliced
2 cups baby spinach, thinly sliced
8 large eggs
4 ounces (1/4 cup) whole milk ricotta cheese, drained
4 ounces (1/4 cup) grated Grana Padano cheese, divided
1/8 teaspoon ground nutmeg or fresh grated nutmeg
a liberal helping of salt and freshly ground black pepper
Melt butter in an 8-inch non-stick skillet over medium-low heat. Add mushrooms; saute 5 minutes, or until lightly browned. Add spinach and cook just until wilted. Season with salt and black pepper.
In a medium bowl beat eggs. In a small bowl, mix the ricotta, 1/2 of the Grana Padano, nutmeg, salt, and black pepper. Add to the eggs and lightly mix. Pour into the skillet.
With a fork, gently move the egg mixture from side to side allowing the egg to seep to the bottom of the pan. Do this for 5-7 minutes, until the eggs start to solidify and a crust begins to form around the edges. Give the pan handle a jiggle, and when the eggs appear nearly set, evenly sprinkle the second half of the cheese over the top of the frittata.
Remove the pan from the stove top and place under the broiler for 4-5 minutes, or until the top puffs up and turns golden brown. Keep a close eye on it so it doesn't burn. Let cool for a couple of minutes before slicing into wedges. Serve hot or at room temperature.
Optional garnish: In a small bowl toss 1 cups of halved cherry tomatoes with a little extra virgin olive oil, salt, black pepper, and fresh herbs such as basil, dill, or parsley. Serve atop the frittata.
Alternative cooking method:
If you'd like to make individual servings, then you can bake the eggs in ramekins. Preheat oven to 400 degrees F. Coat 6 (4 oz.) ramekins with cooking spray; place on a large baking sheet. Divide the egg mixture evenly among ramekins filling no more than 3/4's full. Bake for 15-20 minutes, or until puffed and golden. Cool slightly before serving. Serve warm or at room temperature.
Susan Russo is a free lance food writer in San Diego, California. She publishes stories, recipes, and photos on her cooking blog, <Food Blogga and is a regular contributor to NPR's <Kitchen Window. She is also the author of Recipes Every Man Should Know
and The Encyclopedia of Sandwiches
.