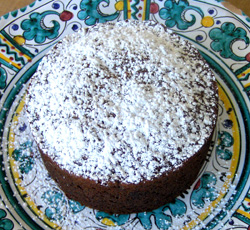 My mother happily referred to herself as a "good eater." Although she was very petite, she could out-eat even our teenaged sons. Every year for Mother's Day the Southern California branch of the family would drive to Little Saigon in Westminster and eat at Dong Khanh, where my mom ordered her favorites: lemon grass chicken, lobster in black pepper sauce, chow mein noodles with squid, vermicelli with bbq pork, spring rolls and a large bowl of pho ga — chicken vermicelli soup.
As much as she loved Dong Khanh's food, though, she insisted that the dessert be homemade. Since I was the cook in the family, I happily took on the assignment, and the waiters at Dong Kahn had long ago accepted our ritual so they were always ready with a stack of small plates and forks.
Over the years I made her many desserts: pound cake, hazelnut cheesecake, flourless chocolate cake, baked plums, bread pudding . . . but she pronounced the last one as the best — a banana cake with chocolate chips and roasted walnuts.
When she passed away one week shy of her 93rd birthday we were all surprised, expecting she would live as long as her mom who lived to be 103. My mom would be very happy knowing that I was sharing my recipe for her banana cake so others would enjoy it on their Mother's Day.
Banana Cake With Chocolate Chips and Walnuts
Yield 8 to 10 servings
Time 90 minutes
Ingredients
• 4 ripe bananas
• 1 1/2 tablespoons baking soda
• 1/4 teaspoon vanilla
• 2 eggs
• 1 cup plus 1 tablespoon sweet butter, room temperature
• 1 cup white sugar
• 1/2 cup light brown sugar
• 2/3 cup half and half
• 2 1/2 cups flour
• Pinch of sea salt
• Pinch of cayenne
• 1/2 cup raw walnuts
• 1/2 cup semi-sweet chocolate chips
Method
• 1. Melt 1 tablespoon of butter and paint the inside of a 9 x 3 round cake pan, then put the pan in the freezer for 30 minutes. (The frozen butter prevents the batter from sticking to the pan.) On a cookie sheet bake the walnuts in a 350 degree oven for 20 minutes, turning every 5 minutes or so; let cool, roughly chop, and set aside.
• 2. In a bowl mash the bananas with a fork, add the baking soda and vanilla. Stir well and set aside. In a mixer use the whisk to cream together the softened butter and both sugars. Add the eggs, mashed bananas, half and half and whisk until blended. Mix in the flour half a cup at a time, being careful not to over-beat. Remove the bowl from the mixer. Use a rubber spatula to blend in the walnuts and chocolate chips. Pour the batter into the buttered cake pan; it will only fill the pan half-way.
• 3. Bake the cake in a 350 oven for 60-70 minutes, turning the pan every 20 minutes so the cake cooks evenly. Test to see if the cake is done by inserting a wooden skewer. If the top is browning too quickly, lightly lay a sheet of aluminum foil over the top. When the skewer comes out clean, take the cake out of the oven and place it on a wire rack for 30 minutes. Remove the cake from the pan, putting it back on the wire rack to finish cooling.
• 4. Just before serving dust the top with powdered sugar and shaved chocolate. Serve warm or at room temperature with vanilla ice cream or freshly whipped cream.
David Latt is an Emmy-award winning television producer who turns to cooking to alleviate stress. He shares his experiences with food and his favorite recipes on his blog Men Who Like To Cook.