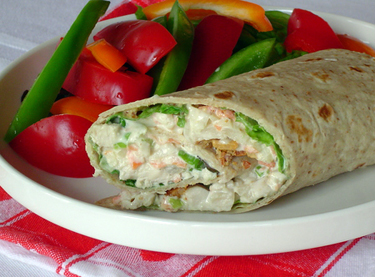 My mom taught me how to cook. I was lucky she was the kind of mom who encouraged me to be in the kitchen. She would often turn her favorite room over to me, making me feel as though I was a scientist working in my own private laboratory. I would pretend I was testing recipes in the Pillsbury kitchens.
My mom did have one rule, though, that she insisted I learn and practice. When dirty bowls and pots and spoons and measuring cups started to pile up on the kitchen counter, she'd quickly remind me of the rule: "Susie, clean up as you go."
Mom believed that as long as you stayed on top of the mess, you'd have a pleasant experience in the kitchen. And everything would turn out much better. I'm pretty sure she was right about that. I was thinking about my mom as I prepared her favorite chicken salad. And I could almost hear her reminding me to clean up after each step.
It's a recipe that has evolved over the years. I often add new ingredients and sometimes take out the old standby ingredients. Mom thought it was a real treat when I would sandwich the chicken salad in a split luncheon-size croissant. That serving style came to an end, though, sometime in the 1980′s when I attended a lecture by New York Times health columnist, Jane Brody. She said that eating a croissant was like eating one stick of butter. I haven't enjoyed a croissant since. I've eaten a few — but I haven't enjoyed them. Thanks a lot, Jane Brody.
Anyway, when I could no longer serve my mom her favorite chicken salad on a stick of butter, I began scooping the salad onto a wedge of sweet, juicy cantaloupe for her. Much more healthful, but not quite the same as chicken salad on a croissant.
At some point, I discovered the chicken salad was quite delicious when wrapped up in a whole grain tortilla. Sometimes I add fresh baby spinach leaves to the wrap.
The chicken salad starts with chopped cooked chicken, of course. You can use leftover grilled chicken breasts, rotisserie chicken from the deli or prepare some chicken using your favorite method. I like to roast some seasoned chicken breasts and then chop them up for the salad. I share directions for the roasting procedure below.
I recently discovered Spectrum organic olive oil mayonnaise. It's rich and creamy with a bit of a nutty flavor from the extra-virgin olive oil. It's a delicious new twist to my chicken salad.
As you prepare this chicken salad, remember to clean up as you go. And go ahead — eat it on a croissant if you want to. But I'll bet you won't stop thinking about the butter. I'd make it a wrap.
Chicken Salad Wrap
2 cups chopped cooked chicken
2 teaspoons orange juice
2 teaspoons vinegar
1/2 teaspoon salt
1/2 cup chopped water chestnuts
1/2 cup shredded carrot
1 bunch green onions, chopped
2/3 cup olive oil mayonnaise
3 to 4 slices bacon, chopped, fried until crisp
Stir chopped chicken in a mixing bowl with orange juice, vinegar and salt. Add water chestnuts, shredded carrots and green onions. Mix well. Blend in the mayonnaise. Add bacon just before serving. If added too soon, the bacon will get soggy.
To roast chicken breasts:
2 large organic chicken breasts, bone in, skin on (should weigh about 2 pounds total)
2 fat cloves of garlic, peeled
1 teaspoon kosher salt
1 tablespoon chopped fresh herbs or 1 teaspoon of your favorite dried seasoning (I used Penzey's salt-free Sunny Paris seasoning)
1 lemon, thinly sliced
Freshly ground black pepper
Olive oil to drizzle
Preheat oven to 400 degrees. Measure salt and herbs onto cutting board. Add garlic and mince all together.
Loosen skin on chicken breasts. Spread garlic mixture under the skin of each breast, using all of it. Tuck 2 slices of lemon under the skin of each breast.
Place chicken breasts on foil-lined rimmed baking sheet. Drizzle with olive oil and season with freshly ground pepper. Roast for about 25 minutes. Remove from oven and the chicken breasts rest for 5 minutes. When chicken has cooled off, remove meat from bones and chop.
To make it a wrap:
Spread some chicken salad over a whole grain tortilla. Add fresh greens if you like. Roll up tightly. Cut in half. Eat. Enjoy. Guilt-free.
Sue Doeden is a popular cooking instructor, food writer and integrative nutrition health coach. She is the host of Good Food, Good Life 365 on Lakeland Public Television. Her own hives full of hardworking bees and her love of honey led to the creation of her recently published cookbook, Homemade with Honey.