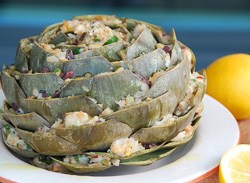 I've been making stuffed artichokes with my mom since I was about 6 years old. When my hands were still too small to tackle the prickly, cactus-like leaves of the artichoke, I was in charge of making the stuffing. There was something indescribably satisfying about it: first I wet the stale Italian bread and squished in between my fingers, then I grated lots of cheese and added a slew of black olives (which, by the way, made lovely finger extensions). It gave "playing with your food" a whole new perspective.
When I got a bit older, I learned how to properly clean an artichoke (which is no easy task). Maybe that's why I appreciate them so much today.
Ironically, my mom never ate her stuffed artichokes. She always made them for my dad and me. After I moved away from Rhode Island, I didn't make artichokes for a long time. They'll never be as good as Mom's, I'd say. Then one spring day I asked my dad if Mom had made any stuffed artichokes lately. He lamented, "she doesn't like making them now that you're not home to have them." So strangely none of us was making or eating artichokes anymore.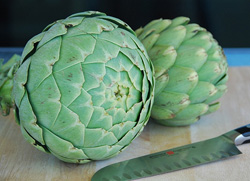 This changed one Sunday after we moved to California, where virtually 100% of US artichokes are grown, including colossal Big Hearts. Upon seeing them for the first time, I audibly gasped. They were enormous – about 6 inches across with 6-8-inch- long stems. I bought two. My mom talked me through the process of making them (there was never a recipe). They were good (not as good as Mom's), but good.
I've gotten much better at cooking artichokes over the last 5 years, and when my parents visited a couple of months ago, I surprised my dad with the BIGGEST Big Heart artichoke I have ever seen. It weighed nearly 3 pounds! The only problem was it took 2 hours to cook. Remember, the bigger the artichoke, the longer the cooking time. And please don't believe people who say big artichokes have no flavor. They do.
So next time you're at the market, pick up a couple of artichokes, and follow my Artichokes 101 guide for cleaning and cooking them. Then make my mom's stuffed artichokes. You won't be disappointed.
Italian Stuffed Globe Artichokes
Makes 2
You could stuff just the cavity of the artichoke, but where's the fun it that? Stuffing the leaves makes a more impressive presentation and makes it more fun to share (if you want to).
2 globe artichokes, about 1 pound each
2 trimmed, peeled, and diced artichoke stems
1 lemon, cut in half (for rubbing the artichoke)
Stuffing:
1 teaspoon extra virgin olive oil
1/2 loaf stale Italian bread, torn into small pieces
1 tablespoon extra virgin olive oil
1/4 cup Kalamata olives, finely chopped
1/4 teaspoon crushed red pepper flakes
1 tablespoon fresh minced parsley
1 tablespoon fresh minced basil
1/4 cup grated Reggiano-Parmigiano cheese
1 tablespoon toasted pine nuts
salt, to taste
For the cooking pot:
1 lemon, sliced (for cooking)
1 tablespoon extra virgin olive oil, plus 2 teaspoons
To make the stuffing, cut stale bread into a few thick slices and moisten with warm water. Wet the bread just enough to soften it but not soak it. If it's too wet, then just squeeze it dry with your hands. Tear the bread into small pieces (about 1/2-inch), and place in a large bowl.
Meanwhile place an artichoke on a cutting board and cut off the stem. Using a sharp knife, remove the fibrous outer part of the stem and discard. Cut the remaining center of the stem into long, thin strips, then dice. Place in a small skillet with 1 teaspoon olive oil over medium heat, for 2-3 minutes, or until lightly browned. Add to the bowl of bread. Add 1 tablespoon extra virgin olive oil, chopped olives, crushed red pepper flakes, parsley, basil, and cheese and mix well.
To toast the pine nuts, place in a small dry skillet over medium heat for about 1 minute, or until golden brown. Shake the pan handle gently to ensure even toasting. Add to the bowl of bread and season generously with salt. Mix the stuffing well with your hands, breaking up any large pieces of bread. If it seems too dry or crumbly, add a little more olive oil or water; if it's too moist, add a bit more bread. I usually taste it at this point and adjust the seasonings as necessary. (If making the stuffing ahead, then place in an air-tight container and store in the refrigerator up to 3 days).
To clean the artichokes, cut off the stem from 1 artichoke (which you've already done for the stuffing) and set aside. Cut off the top ½ inch the artichoke and discard. Using a pair of kitchen shears, trim off the tips of the remaining leaves. Rub the leaves all over with a lemon half.
Using your thumbs, gently separate the leaves (the fresher the artichoke, the tighter the leaves). Pull out the purple tipped leaves from the center and several surrounding yellow leaves until you reach the fuzzy choke. Using a small spoon, scoop out the choke until no fuzzy remnants remain. Then squeeze some lemon juice inside the cavity to keep it from oxidizing, or turning brown. Repeat with second artichoke.
To stuff the artichokes, begin by placing 2-3 tablespoonfuls of stuffing into the cavity of each artichoke to prevent the leaves from closing up over it. Then using your hands, fill each leaf with about 1/2-1 teaspoon full of stuffing, starting at the outermost leaves and working your way toward the center. Try not to over stuff the leaves early on, in case you run out of stuffing by the time you get to the second artichoke! You can always go back and add more stuffing if you'd like.
To cook the artichokes, use a large deep sauce pan and fill it with 3 inches of water. Add a whole sliced lemon and 1 tablespoon olive oil to the water. Place stuffed artichokes in the pan close together so they don't tip over. Drizzle each with one teaspoon of extra virgin olive oil. Cover tightly with a lid and bring to a boil for 10 minutes. Then lower the heat to a simmer, keeping the pan only partially covered, and cook for 45-60 minutes, or until leaves are tender.
To check for doneness, try pulling a leaf from the artichoke, it should come out easily; too much tugging means it needs to cook more. You can also get a long, think knife and insert it into the center of the artichoke; it should easily go through to the heart. Lift the knife straight out so you don't cut the heart.

Transfer cooked artichokes to a large plate or shallow bowl and let cool for 5 minutes before eating. They can also be kept warm by loosely covering with foil and eating within 15-20 minutes.
- Also published on Susan Russo's site FoodBlogga.