My Brother's Restaurant, Ludivine Opens
by Hope Stranger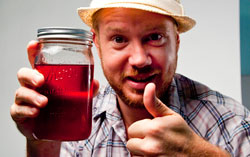 I am not a cook. It's not that I'm a bad cook, per se. I just choose not to participate. My best friend Anna can attest to this better than anyone. She made me every bite of homecooked food I had during college. She would ask, "Do you want a snack?" which meant "Can I please cook you some real food so your skin won't look so sallow and your teeth don't decay from blow pops and cigarettes?" Anna was just like my brother. They should get married, but that's another story.
My brother is an excellent chef. He makes going home to Oklahoma a thrill for me, which is something most people wouldn't ordinarily say about the panhandle state. A week ago, he, along with his partner Russ, opened a farm to table restaurant in Oklahoma City. It's called Ludivine, which coincidentally, is also the name of Anna's favorite clothing boutique in New York. Just sayin'. I flew home for the soft opening in mid-September, and as I sat there, along with fifty or so people I've known my whole life, my eyes swelled with tears. The food was extraordinary. My Grandma Helen was so delighted with her meal she literally stopped one of the servers as they were bringing out entrees and demanded to get her Bison filet before anyone else. She's 83-years-old, and probably one of my brother's greatest culinary influences. So it was tolerated. The whole spirit of Ludivine is really just like my grandmother. Personal, tasteful, but deadly serious about dinner.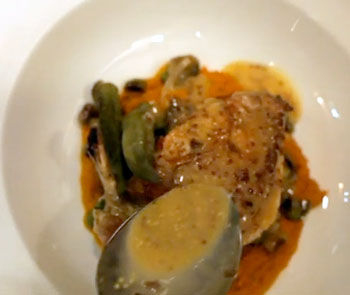 The team at Ludivine is dedicated to utilizing ingredients from local farmers and ranchers. In cities like Seattle, Portland, New York, Los Angeles and San Francisco, this concept has been a no-brainer for several years. But in Oklahoma City, one of the fast food capitals of the United States, it's positively revolutionary. I don't remember an organic, localized restaurant when I was growing up. You can rest assured I knew when Carl's Junior replaced Hardees on May Avenue. No disrespect to fast food chains (there's a time and place), but it's exciting to witness my hometown getting a taste of what you can find on every street corner in Manhattan or Los Angeles; passionate cooks who support good, clean, and fair food.
If you ever find yourself in Oklahoma City, you shouldn't leave without checking out Ludivine. You will find Jonothan, Russ, Tracy, Kyle, and the whole gang happy to have you at their little nook of foodtopia. I cannot wait to return, and next time, I'm definitely bringing Anna.
Ludivine
805 N. Hudson
Oklahoma City, OK 73102
(405) 778-6800
Hope Stranger is a freelance writer. She lives in New York City.
Los Angeles


by

David Latt





Living in Southern California, we enjoy rich ethnic diversity. Those of us who explore culture through cuisine are very happy about that. Located in West Los Angeles, Yabu, which has a devoted...

Read more...

Northern California


by

Joseph Erdos





No man is an island; we are all interconnected by our humanity. That is the philosophy of Ubuntu, a belief rooted in Zulu culture that emphasizes people's allegiances, relationships, community,...

Read more...

Los Angeles


by

Charles G. Thompson





Hungry! Need. Food. Now. There are times when eating becomes the thing I have to do before anything else. Knowing of close-to-home restaurants is of paramount importance to me. Luckily,...

Read more...

Los Angeles


by

David Latt





Westside fans of the Loteria Grill at the Farmers Market who lamented the long drive into LA can now enjoy Loteria's freshly made Mexican food right here in Santa Monica in the old Gaucho Grill...

Read more...