Hemmer Brothers Burgers, Sioux Falls, SD
by Scott R. Kline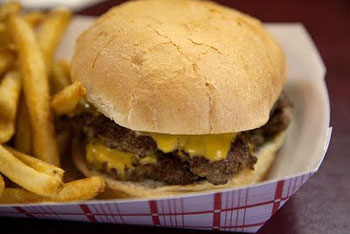 Hemmer Brothers Burgers in Sioux Falls, South Dakota is easy to drive by as it is placed inside an office building on bustling S. Phillips Avenue. But make sure you find it. They make a nice burger. I parked in the nearby garage and went inside. The décor is basic tables with red vinyl covers, faux plaster exposing faux bricks, but that isn't why we come to a burger place is it? The brothers put all their creativity into the food and it shows.
I ordered the Piggy Back Double Bacon Cheeseburger ($5.99). Hemmers' grinds their own beef on site and in a little twist they grind in the bacon as well into each quarter pound patty. The single patty version is called the Squealer ($4.29). I ordered mine with American cheese. All the toppings and condiments are laid out fresh in the nearby condiment bar. I threw lettuce and onion under my bun, along with some mayo. The bun looks kind of crunchy on top, but in fact is fresh and soft. The first bite yields a sausage patty like effect, but I grew to like it more and more with each bite. The beef was juicy and flavorful.
Fries are hand cut on site as well. They are medium cut, crisp and hot. They don't sag limply like some fresh-cut fries. They have fresh squeezed lemonade. Don't miss this spot if you are heading to Sioux Falls. Or maybe even head there just to try these burgers.
Hemmer Brothers Hamburgers
230 S. Phillips Ave., #101
Sioux Falls, SD 57104
605-334-3301
- Also published on Hoosier Burger Boy
Florida


by

Cathy Pollak





Whenever I find myself in a new town, I always look up a Triple-D (Diners, Drive-Ins & Dives) restaurant. Why not? The places always have rave reviews and you know you are going to get a BIG,...

Read more...

Los Angeles


by

Anna Harari





Three weeks into all night shoots in Chatsworth on a low-budget indie movie with the same caterer twice a day serving us burgers for "breakfast" every single day (not even I can eat a burger...

Read more...

Los Angeles


by

David Latt





To great acclaim, José Andrés recently opened four restaurants (Rojo, Blanco, Saam, & Patisserie) and a bar (Bar Centro) on the ground floor of the SLS Hotel (465 S. La Cienega, Los Angeles, CA 90048;...

Read more...

Boston


by

Hallie Ephron





One of the first things you discover early on, dating someone new, is whether your stars align. If you're a serious foodie like me, the key question always involves food.

Mine: Shall...

Read more...