Hemmer Brothers Burgers, Sioux Falls, SD
by Scott R. Kline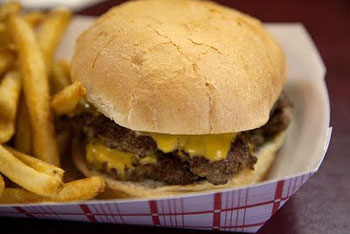 Hemmer Brothers Burgers in Sioux Falls, South Dakota is easy to drive by as it is placed inside an office building on bustling S. Phillips Avenue. But make sure you find it. They make a nice burger. I parked in the nearby garage and went inside. The décor is basic tables with red vinyl covers, faux plaster exposing faux bricks, but that isn't why we come to a burger place is it? The brothers put all their creativity into the food and it shows.
I ordered the Piggy Back Double Bacon Cheeseburger ($5.99). Hemmers' grinds their own beef on site and in a little twist they grind in the bacon as well into each quarter pound patty. The single patty version is called the Squealer ($4.29). I ordered mine with American cheese. All the toppings and condiments are laid out fresh in the nearby condiment bar. I threw lettuce and onion under my bun, along with some mayo. The bun looks kind of crunchy on top, but in fact is fresh and soft. The first bite yields a sausage patty like effect, but I grew to like it more and more with each bite. The beef was juicy and flavorful.
Fries are hand cut on site as well. They are medium cut, crisp and hot. They don't sag limply like some fresh-cut fries. They have fresh squeezed lemonade. Don't miss this spot if you are heading to Sioux Falls. Or maybe even head there just to try these burgers.
Hemmer Brothers Hamburgers
230 S. Phillips Ave., #101
Sioux Falls, SD 57104
605-334-3301
- Also published on Hoosier Burger Boy
Los Angeles


by

Maia Harari





Last night One for the Table got a sneak peek into what promises to be Culver City's newest hot spot—A-Frame—the brainchild of restaurateur David Reiss and rockstar chef Roy Choi of Kogi BBQ...

Read more...

Paris


by

Brenda Athanus





Our excitement builds as our tiny Peugeot navigates the streets of Paris heading for rue du Cherche-Midi and my mecca, Poilane. Poilane is an extrordinary bakery that I had been reading about and...

Read more...

Los Angeles


by

Rachel Parker





photo: Joshua Lurie/944.com

With a sensibility learned from fairy tales, one would expect a baker, the conjurer of butter,...

Read more...

New York


by

Maia Harari





We'd finally made it all the way to Park Slope, it was less than warm, and I'm pretty sure I had mascara on my forehead from frantically trying to fix my make-up on the subway. You can imagine...

Read more...