On Friday night we ate at the cozy Terra Waconia in quaint downtown Waconia, of course. Once again, we started with appetizers. A honeycomb-topped crostini with chevre and fresh fruit was elegantly presented. The cheese platter of the night was an array of locally produced cheese. The handful of entrees on the ever-changing blackboard taunted us, and although we could have gone right to the ginger creme brulee for dessert, we did order entrees. We split the dessert.
If you haven't had a chance to eat at Terra Waconia, it's just a short drive from the Twin Cities. Head down mid-afternoon and stop at the Minnesota Landscape Arboretum on your way. If you like to shop, downtown Excelsior seemed to have something for everyone. I couldn't pass up the independent bookstore — Excelsior Bay Books.
It's easy to make an evening meal of appetizers at home, too. Especially when the small bites are quick and easy to prepare. Even better when they can be made ahead and heated up at the last minute.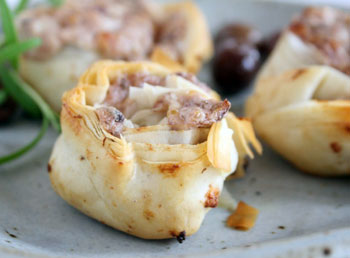 Today I made some small pastries filled with cream cheese and grated Provolone studded with chopped Greek olives. I like using fillo dough to produce flaky, crisp spirals filled voluptuously with the tangy, salty mixture. It's important to mix up the filling before laying out the paper-thin sheets of dough. They quickly dry out and become brittle.
I took half of the dough from a one-pound package. On a dry work surface, I brushed each sheet with olive oil, stacking them on top of each layer to form the flaky pastry. After the dough was cut into rectangles and spread with the olive mixture, I baked them for 10 to 15 minutes. They are delicious served hot right from the oven. But, you can make them ahead and reheat them in a 400-degree oven for a few minutes.
I can make a meal of these olive spirals along with a spinach salad. And, maybe a few Christmas cookies for dessert:)
Your friends will love these when you share them as an appetizer at your next party.
Olive Wheels
1/2 cup cream cheese, room temperature
1/3 cup grated Provolone cheese
1/2 cup pitted Greek olives, coarsely chopped
1/2 pound fillo dough
Olive Oil
Preheat oven to 400°F. Line baking sheet with parchment paper.
Beat cream cheese with Provolone until light and creamy. Stir in the chopped olives.
Lay one sheet of fillo dough at a time on a clean, dry work surface. Brush with olive oil, lay another sheet of dough over the top and brush with olive oil. Continue this process until all sheets have been stacked. Use a pizza cutter to divide the stack of dough into rectangles. I made 3 evenly-spaced cuts from long side to long side and 5 cuts from one short end to the other.
Spoon filling in the center of each rectangle. Bring the long sides up and coil each rectangle to form a wheel. Place on parchment-lined baking sheet and brush with more olive oil. Bake in preheated 400-degree oven for 15 to 20 minutes. Serve hot. With a salad, these Wheels will serve 5 or 6.
Baked and cooled, the Wheels can be stored in the refrigerator for up to 24 hours. When you are ready to serve them, reheat in a preheated 400-degree oven for about 5 minutes.
Sue Doeden is a popular cooking instructor, food writer and integrative nutrition health coach. She is the host of Good Food, Good Life 365 on Lakeland Public Television. Her own hives full of hardworking bees and her love of honey led to the creation of her recently published cookbook, Homemade with Honey.