Maryland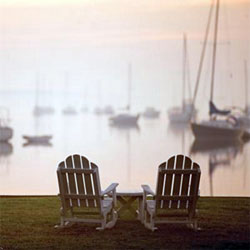 We'd walked past it a couple of times, a simple storefront set back from the street with a small porch, a glimpse of tables inside, unassuming. The Key Lime Cafe. Full at lunch-time, we assumed it was a Maryland version of a diner. We never even ventured up on to the porch....

We walked across the road to Big Al's Fish Store the first day for lunch and had a fried clam sandwich, we had fancy hotel food at the Perry Cabin and so much soft-shelled crab that Alan spent an afternoon in bed.

We'd moved my son into his dorms at George Washington University in D.C. three days before and driven to Chesapeake Bay to the small town of St. Michael's, Maryland (birthplace of Frederick Douglass) for a few days of rest. It was hot and we were tired and the plantation style Inn at Perry Cabin was a lovely place to rest.
New York


by

Diane Sokolow





My dad was a two job guy. We lived in a representative, working class neighborhood in Brooklyn, which was to me, the paradise of the world. Representative I learned years later meant not just...

Read more...

San Francisco


by

Amy Sherman





If you've never been to San Francisco you need to know our Summer starts NOW. Yes, in September. Not only is it pretty and warm and sunny but Summer produce--tomatoes, corn, pepper, and peaches...

Read more...

New York


by

Jeanne Kelley





I knew exactly where I wanted to go. I wanted to go to Blue Hill in Greenwich Village, and no, not because the Obama's went there on their "NYC date night" (although how cool is that?). I...

Read more...

Florida


by

Nancy Ellison





OK... it is better than not coming at all!

There is something rather delicious about "discovering" a restaurant and doing the brag only to find everyone in the room has been eating there for...

Read more...