Order Up at the A-1 Dinner
by Brenda Athanus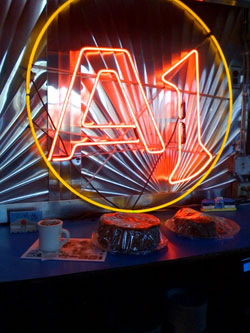 The A-1 diner at 3 Bridge Street in Gardiner, Maine is an old Worcester Streamliner diner car brought to its present location by truck in 1946 and installed on long Erector-like legs to bring it up one story to the street level. Sixty-two years ago it was called the Heald's diner and back then it was a hopping place for all three shifts of factory workers. It is still going strong and owned once again by the same family, the Giberson's. Though evolving with the times, you can still get classic diner food like meat loaf with mashed potatoes and peas but there also might be a Moroccan tagine or chicken Marbella on the same menu.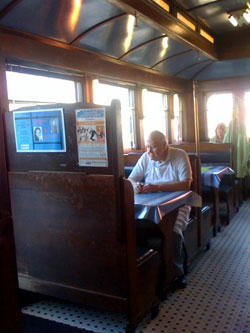 When my sister, Tanya and I go for dinner she always orders the fried smelts from the Kennebec River less than a quarter mile away and I order the fried pickled tripe. There is a classic diner menu and then there are specials. Michael Giberson and Neil Anderson have co-owned it since 1988, Michael is the chef, he does most of the cooking and sourcing of the local vegetables, fish, meats and fruit. The other cook is Bob the "biscuit maker" who has been making biscuits "steady" for 34 years. If you can figure out how he makes them I am offering a big prize, they look like they have yeast because of the height but they don't. Baking powder? Guess it is a Maine legend that deserves to be kept a secret.
The place is truly shabby chic, with 8 well worn wooden booths and a blue formica countertop that goes the whole length of the diner with spinning chrome stools and covered cake stands filled with tall cakes covered with fluffy frosting. The specials are on a sign board above the counter with plastic letters that press into a track. Lots of soups, main courses and lots of desserts are listed on this board and they change every day! From Indian lentil soup to roast pork dinner to grape nut pudding or gingerbread with lemon sauce to a darn good piece of pie!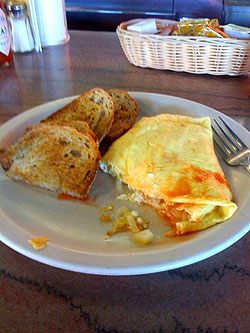 Over the years the factories have closed and the workers have moved on and a new crowd of young families and adventurous eaters have taken their place at the counter. Everyone that goes there is happy to be part of this small town in Maine's precious history and cheer on the diner owners. Friday and Saturday night there is a line out the door and everyone waits to eat at a place with such a "good feel." The gamut of food is stellar, the choices are endless, the service is top notch and it is a place to take your kids and friends and show them what fast, home-style food really means. Sitting together, eating great local food in a rare vintage diner car and served quickly by people that still care a lot – how can you go wrong? Order up!
A1 Diner, 3 Bridge Street, Gardiner, ME 04345,(207) 582-4804
Brenda Athanus runs a small gourmet food shop in Belgrade Lakes, Maine with her sister Tanya called the Green Spot.
The Green Spot
207.441.9327
New York


by

Nancy Ellison





For someone who considered "nursery food" buttered tortillas with Jalapenos or cheese enchiladas, it is with more than just a foodie interest that I seek out Mexican restaurants wherever I...

Read more...

Mid-West


by

Hope Stranger





I am not a cook. It's not that I'm a bad cook, per se. I just choose not to participate. My best friend Anna can attest to this better than anyone. She made me every bite of homecooked food I had...

Read more...

Southern California


by

Maylynn Morales





With my weekend plans suddenly cancelled, I got to drive up my beloved Central Coast for a second visit to Cambria in a month. Both times, I had one place in mind at which to dine: Black Cat...

Read more...

Colorado


by

Haley Schultheis





If there is one type of restaurant certain to make a list of things I adore, it's a cozy bakery and café. There is a peaceful and neighborly feel about such a place. Yes, Tiffany's is to Holly...

Read more...