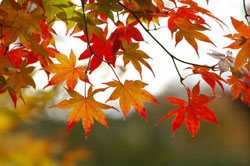 I remember it like it was yesterday – laying in bed, completely entranced in the fiery excitement of it all. It was nothing I had ever experienced. My senses were heightened, an obsession had begun.

I was experiencing my first real autumn.

Growing up in New Orleans, fall was something that just … happened. The days went from excessively hot, to a little less hot, to bearably warm with the occasional jolt of cold (Cold, of course, being temperatures in the 50s. Brrrr). The leaves bypassed that whole color-change thing everyone always talks about. It was green to dead and that was that.

That is, until I began my freshman year in Maryland at Goucher College. As I plucked away at my snooze button, cursing the existence of a 9:30 am class, I rolled over and froze. There they were – red, orange, yellow and every combination between the three.

Once I was able to tear myself away from the window, I sprinted down the hall. "Have you seen them? They're beautiful!"

My friends hardly shared my enthusiasm. Most of them came from the Northeast and what was a stunning new discovery to me, was old news to them. They would accompany me on my excited jaunts through the woods, rolling their eyes as I bounded through the trees, pausing only to engage them in a half-hearted "play in the leaves."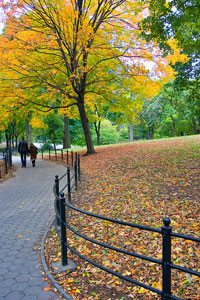 My experience was brief; after two years, I returned to New Orleans to finish college. But following graduation, I made the decision to move to New York – back to the chilly crispness and back to the leaves.

At the first hint of cold, I knew I had to take the appropriate course of action. After several hours of intense research, I settled on the perfect recipe for butternut squash soup (or more specifically, butternut squash soup with roasted red pepper puree).

From there came the onslaught of other seasonally appropriate meal planning – a grand gesture considering I live alone. Apple pies, crisps and cobblers as well as a multitude of soups, stews and roasts; cold weather comforts for a girl who never really needed to be comforted from the cold before.

As the temperatures drop, and I attempt to fool myself into believing that the excitement of fall foods, as well as the purchase of coats and boots, will somehow override the shock that will come after my first city-snow, one thing remains certain – as I walked past Washington Square Park, sporting my new fall trench and sensible yet stylish boots, time may pass and I may become jaded on certain issues, but God help me if I ever fail to be awestruck by the first showings of those beautiful, beautiful leaves.
Butternut Squash Soup with Roasted Pepper Puree
Adapted from a 2003 Gourmet Magazine recipe
2 tablespoons olive oil
2 cups chopped onions
1 tablespoon minced garlis
2 lbs. butternut squash, cut into 1-inch pieces
5 cups vegetable broth
1 teaspoon dried thyme
1/2 teaspoon grated orange peel
Salt and pepper to taste
1 cup roasted red peppers, can be made from scratch or from a jar
1 tablespoon extra-virgin olive oil
1 teaspoon minced garlic
1/8 - 1/4 dried crushed red pepper, amount to taste
Heat oil in heavy large pot over medium-high heat. Add onions; sauté until tender, about 12 minutes. Add garlic; stir 1 minute. Add squash and broth; bring to boil. Reduce heat; cover and simmer until squash is soft, about 40 minutes. Cool slightly.
While soup is cooking, make red pepper puree by placing all ingredients into a food processor and blending until smooth. Season with salt and pepper, if desired.
Working in batches, puree soup in blender until smooth or use immersion hand blender in pot. Once soup is pureed add thyme and orange peel. Thin soup with more broth if desired. Simmer 3 minutes. Season with salt and pepper.
Ladle soup into bowls. Swirl 1 tablespoon Roasted Red Pepper Puree into soup in each bowl. Sprinkle with additional thyme, if desired.
Hartley Casbon is a freelance writer originally from New Orleans. She now works as an associate producer for the television show "Nick News with Linda Ellerbee" in New York City.