sugarFIX at sugarFISH in Downtown LA
by Anna Harari & Maia Harari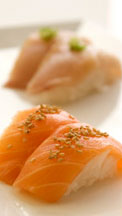 Last night, we had an eating contest at the newest sugarFISH location downtown. Obviously, Maia won, but her dress was a lot stretchier than Anna's. We each ordered "The Nozawa" (the largest of Nozawa's signature "Trust Me" menus), but we couldn't resist adding an order of the perfectly buttery albacore belly sushi and a few other things. The large scallops (which were the daily special) had just the right amount of tang and practically leave sparkles in your mouth. The crisp seaweed was the perfect complement to the fatty, melt-in-your mouth fish in the toro handroll. The halibut was pure heaven, and the way they prepare salmon is so genius that they should practically call it something else entirely. The ikura was a little soft and not quite cold enough to balance the warm rice, and we were a little too full by the time the lobster handroll came around to properly assess it, but we think we liked it.

If you haven't been there, sugarFISH is the more easy-going, more affordable version of the infamous Sushi Nozawa. They have three locations: Marina Del Rey (which was the first), Brentwood (which feels a little like an episode of Melrose Place, in a good way) and the newest Downtown location (located in the ground floor of the historic Robinson Co. building). The fish is all hand-picked each morning by Kazunori Nozawa himself and they use his signature warm rice and special seaweed that needs to be eaten RIGHT AWAY. And, just like at Nozawa, good luck trying to get any extra ponzu sauce.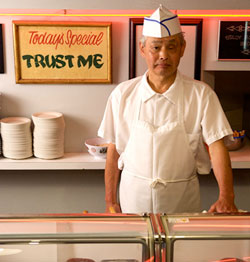 But some things are different at sugarFISH. You can order a la carte and the omakase options are more streamlined than at Nozawa. And if you really had to, you could probably pull out your cell phone at the table. Oh, and there are tables. And, while there is a bar, there's no Mr. Nozawa hovering behind it, threatening at any minute to raise his voice, and his knife, to throw a disrespectful customer out onto the street (something he's been known to do quite indiscriminately). In fact, there are no sushi chefs at all behind the bar. They're in the kitchen, behind closed doors. It's how they keep their prices low, but, we're not going to lie, we have our reservations about the disappearance of the sushi chef. After all, sugarFISH itself was a business concept born at the sushi bar. And you have to admit, it's hard to replace that feeling the first time a sushi chef finally recognizes you and makes you something really special. Or the way he subtly approves or disapproves of the date next to you in the way he cuts his fish or passes a dish over the counter. Or even just the way they all shout excitedly when you walk in.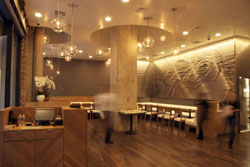 But then again, we all know what it's like to sit next to a lefty at the bar. Or when you're starving and it's impossible to get the sushi chef's attention. Or those times that your whole meal goes South just because you ask for the wrong thing (ahem, ponzu sauce). Well that won't happen at sugarFISH. The waiters are gentle in the way they enforce the rules. And the space is intimate and relaxed, thanks to the warm, gold lighting and beautiful interior design by DEX Design Studio. The main wall features a reverse topography of the Tokyo Bay woven out of lead pipes and a concrete column that grows into a hollow in the ceiling like an urban tree trunk. But despite the industrial design, the space is surprisingly cozy.
We'll take a table for two.


SUGARFISH Downtown Los Angeles
600 W 7th St
Los Angeles, CA 90017
Phone: 213 627-3000
Mon-Sat 11:30 am - 10 pm | Sun 12 pm - 9 pm
Europe


by

Anna Harari





It was a Lonely Planet recommendation, but the description made it hard to tell – it was definitely trendy, but would it be good? We arrived, and it was, as promised, a scene. A hungover...

Read more...

Mid-Atlantic


by

Ilene Amy Berg





Before there was IHOP, there was Gwynn's.

When I was a kid in suburban Teaneck, New Jersey, it was always a treat to go for Sunday brunch with my family at Gwynn's on Teaneck Road. Gwynn's...

Read more...

Texas


by

David Latt





Buffalo Gap is only a few miles south-west of Abilene. The small town (population 463) has a fascinating Historic Village, a must for any western history buffs.

The jewel of Buffalo Gap is Perini...

Read more...

New York


by

Diane Sokolow





My dad was a two job guy. We lived in a representative, working class neighborhood in Brooklyn, which was to me, the paradise of the world. Representative I learned years later meant not just...

Read more...