Skip (the) Tart and go Straight for (the) Short Cake
by Maia Harari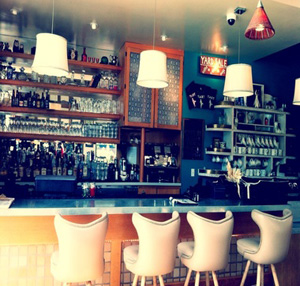 I love breakfast. Pancakes that taste like cookie dough at Hedley's, Huevos O'Groats, I'll even drive to Ventura for the chorizo skillet at Golden Egg or go to Barney Greengrass in New York for nova, onions and eggs. So I was excited to try Tart, the cute cafe next to the Farmer's Daughter hotel on Fairfax.
It's adorable inside. Quaint, cozy, the owner, who looks like Yosemite Sam, bouncing around in an apron, like someone's dream of what a breakfast place should be. So I didn't mind that we got seated right next to the door on a particularly chilly Angeleno day. And I didn't even mind that it took almost a half an hour to get our coffee. It was Saturday, and they were busy. But the coffee was burnt and watery. Like it was scraped from the bottom of the dispenser.
I returned it and ordered a cappuccino to compensate. It took twenty minutes to arrive AND it came with lipstick smeared all over the mug. Not mine, by the way. I sent it back, and suggested that since it had been forty five minutes and there was no sign of our food, maybe we should abandon ship...
My friends weren't having it. They'd waited this long and we were starving. So we waited. And waited. And waited. A concerned bus boy finally came to check on us. When our food finally did come, it was a disaster. I honestly don't know where to start.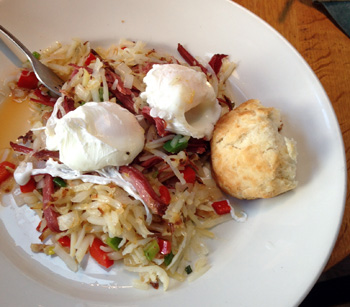 My egg white scramble was charred, my friend's corn beef hash was dangerously undercooked, the biscuit -- at least they should make a good biscuit, it is Tart after all in The Farmers Daughter Motel -- was starchy and bland, and the Swiss cheese in my mom's omelette was unmelted and came with potatoes so square they could only have come from a frozen bag.
To make matters even worse, the waffle we'd ordered for the table was raw inside.
We flagged Yosemite Sam, the owner over. While he waived our bill after some negotiating, he was arrogant and completely unapologetic, explaining that, no matter what we thought, they were busy for a reason.
I'd lost my appetite, but my mom insisted that we all still needed food. So we walked across to the always reliable Farmer's Market and found ourselves at the counter at Short Cake...where Nancy Silverton saved the day...
Maia Harari is a writer and choreographer, born and raised in Los Angeles. You can follow her on twitter at www.twitter.com/maiacalypso.
New York


by

Cathy Pollak





Trips to New York City have become scarce over the years. Maybe non-existent is a better description.

I don't have family, friends or business in New York. All past trips have been purely...

Read more...

Texas


by

David Latt





Austin has a lot going on. Besides being the state capital, the city has amazing music venues with a great collection of bars and a dynamic food scene. Austin has it all. Upscale, fine dining...

Read more...

Los Angeles


by

David Latt





One of my favorite restaurants isn't close to where we live. Adana is forty-five minutes away in Glendale.

The light and airy dining room suggests a banquet hall in an elegant European...

Read more...

Oregon


by

Sue Doeden





One of the highlights of my experiences in Portland, Oregon was the dinner I had at the 2010 James Beard award-winning Higgins Restaurant and Bar. The dinner was hosted by the the California...

Read more...