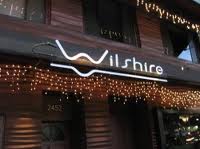 Living in LA is easy. Eating out here is hard. Sure you can wear whatever you want, and reservations for most places aren't necessary, but the high prices for ho-hum food and lackluster service by kids waiting on you while waiting for their big break (this is not a myth) mostly keeps us at home where the food is at least warm, the company enjoyable and (for us) the wine cellar filled with lovely selections. When we want a fix of beautiful, inventive food, we just turn on Top Chef and watch the pans fly. That's where we discovered Nyesha Arrington.
A contestant on the recent season in Texas, we couldn't help but root for her and Chris Crary, another LA chef to win the top prize. They both seemed, not only genuinely talented, but to be decent people as well. Which is not, by the way, a requirement for a chef, though it probably helps in the kitchen and certainly when you're on reality TV. Unless you want to be cast as the villain. They say all publicity is good publicity, but that is surely a double-sword when you're "playing" yourself. Regardless, we would be able to taste their food and, yes, the fact that we saw them on TV did sway us to go to their respective restaurants. Actors are a dime a dozen. Someone who can cook perfect pork belly truly has my attention.
We met Nyesha at LudoBites 8.0 while she was waiting to be seated. We felt a bit silly, nervous and dorky approaching her to chat, but she was incredibly gracious and I think a bit surprised to be recognized. (She was not eating yet. We would never be so rude as to interrupt someone in that manner.) We told her how impressed we were with her kitchen skills, especially during the Last Chance Kitchen segments, and promised to come into Wilshire soon. (She's the executive chef.) We had been there once - before she took over the kitchen - and enjoyed the experience, so now we were doubly excited.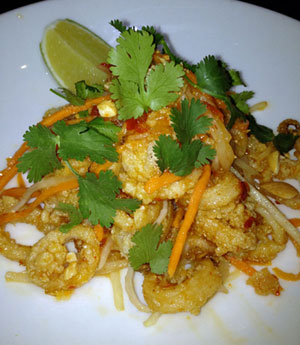 It's a sprawling space, much bigger than it appears from the street with a very slick, yet comfortable bar, dark and cozy dining room and extensive outdoor patio with several outdoor fireplaces that add a touch of class and romance to the dining experience. We started our evening in the bar where we met Chef Nyesha taking pics of that night's "White Plate Special", which is only available at the bar and comes with your choice of beer, specialty cocktail or featured wine for $16. The fried chicken with sweet potato fries looked so good we almost chucked our full dinner plans.
With Happy Hour in full-swing, we ordered a plate of fried calamari with an orange citrus glaze and peanuts. A different take the usual classic, that had my husband digging in with gusto…and he never eats calamari.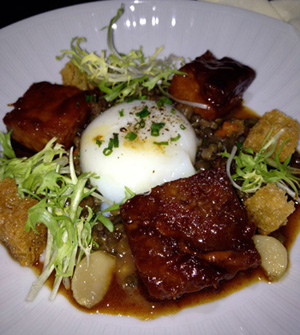 After that we moved out to the patio and began eating in earnest. Thank God I was with two men who like to eat, so I was able to taste more than I usually would. We ordered the Chicken Liver Terrine with Jalapeno Apple Chutney and the Pork Belly with French Lentils and Slow-poached Egg. While I liked the terrine, I truy wished I didn't have to share the pork belly.
It was crispy, yet juicy, mixing together perfectly with the yolky goodness of the egg and the rustic nature of the lentils. We almost ordered a second plate. I know pork belly is everywhere now, and we order it a lot, but this one really got my attention. Classy, seamless flavors that weren't overthought.
The men went for meat for their second course: our pork-loving friend ordered the Maple-Glazed Kurobuta Pork Chop and my husband got his usual - the Slow-Braised Shortrib. This version comes with a Romesco Sauce and Black Kale. I had had my heart set on a risotto that was listed on the website, but clearly not in season anymore.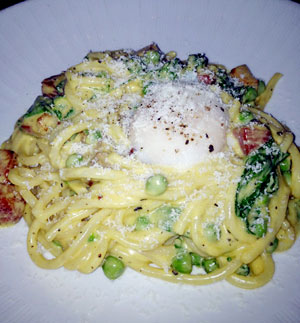 Almost full, and contented with my bit of pork belly in the earlier round, I went with the Buccatini Carbonara with Nueskes Bacon, Pea Tendrils, Poached Egg and Fiore Sardo. (Which is an Italian cheese. Had to Google it.) Our friend asked me if I knew about Nueskes. I laughed at him. Seriously, I work for a food mag. Of course, I knew. That's half the reason I ordered it. There's no better bacon out there.
I can't remember the last time I ate a dish of carbonara before that night, however, I know I won't be forgetting Wilshire's version anytime soon. So creamy, but not heavy, all the elements in harmony and the fresh pasta….need I say more. It really does make a big difference. (Still not making it at home, though). I did take a bite of the other meals and they were spot-on, but I didn't care. I know I won best dish of the night that evening.
Most of the time when you meet people who are on television, actors or reality-TV stars, they fail to live up to your expectations. I'm just glad that Nyesha is cooking in my city. The food at Wilshire is the real deal. Top Chef indeed.
WILSHIRE - 2454 Wilshire Blvd., Santa Monica, CA 90403 - (310) 586-1707
Lisa Dinsmore is a writer, web programmer, movie and wine lover. She currently runs two review websites to share her passions: www.crazy4cinema.com and www.dailywinedispatch.com. She is also the Managing Editor of One for the Table.