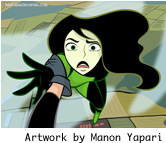 It was the day after Christmas, we'd had too much sugar and a fair share of post-modern stress so, it was probably a bad idea to try to go "sale" shopping. We couldn't get even get into the parking lot at Saks, it was 5 of 11 and the 70% discount ended at noon and neither of us had even had a cup of coffee.... (I sometimes think my daughters and I should wear signs around our necks that say "Please feed before attempting to interact with us.")
And then sort of Saks was off the table but we were already out and we poked our heads into a shop on Melrose Place which was too expensive and besides the point and Anna said she just wanted to go home. Neither one of us had really had coffee.
"No, let's take a walk," I insisted. "We'll find someplace to eat."
"There isn't any place to eat," she said "except Urth Cafe and that's miles away."
"Of course, there is." I insisted as I turned down Robertson Blvd which looked in that moment like a wasteland of furniture stores without an egg in sight.
But wait there's that little coffee shop two doors down. Closed. But wait there's that place Maia loves that has the pancakes. Closed. But wait...
It's moments like these when I pray to the food gods that just on that corner there, where you least expect it, yes, I know you've never seen it before but it's there, I promise (I hope and pray) there will be the most wonderful eating establishment in the world, a secret one, one no one's ever heard of just waiting to be discovered....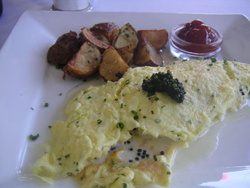 And there on the corner of Robertson and Rosewood, nestled off the curb, the little glass house that's Petrossian. "We can't," I thought, "it's going to be a fortune – the Paris caviar restaurant?!" but further down the street was a wasteland and it was open and it was only noon and maybe they did serve breakfast...
And, at the risk of having someone write in and tell me I really don't know what things cost, the smoked salmon omelette was $13 and they give free refills on fresh orange juice and it's calm and elegant and rarefied and sort of like a treat and the food is fabulous and I imagine you can go crazy and order caviar, but we didn't, we had omelettes and great coffee and fresh oj and a respite from a morning gone wrong.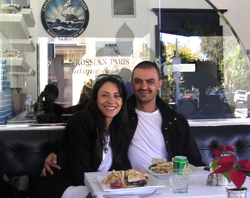 And at the table next to us was the most charming couple whose names were Safia and Khalid who struck up a conversation with us and told us that they live in Rihaydh and they used to live in L.A. and they were visting for the holidays and she was raised in Paris and they HAD to come here for lunch, practically every day because didn't we know, best steak sandwich in the world. No, we didn't know. But, actually, I believe them.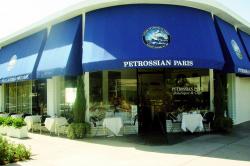 Petrossian Boutique & Cafe
21 North Robertson Boulevard
(one block north of Beverly Boulevard)
Los Angeles, CA 90048
Phone: 310-271-0576